economics
South African Markets Roiled as Zuma's Assurances Come Too Late
By and
Rand pares drop as President says fiscal prudency to remain

Zuma comments made after stocks plunge in worst week in a year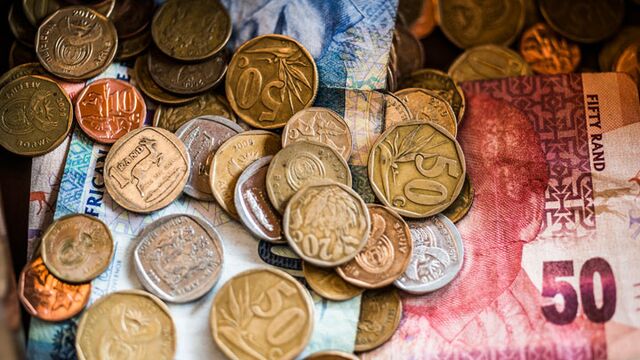 While South African President Jacob Zuma's pledge to stick to spending targets after firing his finance minister helped to stem losses in the country's currency, it came too late for the nation's equities and bonds, which had already shut for trading.
The rand pulled back from record lows against the dollar, British pound and euro on Friday as Zuma said the government's top priority is to maintain a "prudent fiscal position" in an e-mailed statement released two days after he dismissed Nhlanhla Nene without an explanation. The currency is down almost 9 percent versus the greenback this week, the biggest drop among 31 major and emerging markets tracked by Bloomberg.

About an hour before Zuma's assurances, stocks had already posted their worst week in a year, with the percentage of shares on the benchmark index at 52-week lows jumping to the highest level in more than seven years. The appointment of David van Rooyen, a former small-town mayor who is little known to investors and analysts, as finance minister comes as South Africa's $350 billion economy faces a credit downgrade to junk, the slowest expansion since the 2009 recession and rising debt levels.
Zuma's promises to stick to the government's fiscal path "may stop the rot short term, but I'm not sure its really going to turn the situation around," Nigel Rendell, a senior emerging markets analyst at Medley Global Advisors LLC, said by phone from London. "Once you let the cat out of the bag its very difficult to push it back in. Plucking somebody off the backbench that nobody had heard of is not a great way to conduct economic policy."
'Early Meeting'
The rand weakened to a record of 16.0543 per dollar before paring losses to trade 1.9 percent down at 15.7648 by 7:04 p.m. in Johannesburg on Friday. It dropped to a low of 24.3084 against the pound and 17.5938 to the euro.
Yields on rand-denominated debt due December 2026 rose 25 basis points to 10.35 percent by 5:46 p.m. in Johannesburg, after earlier climbing to as high as 10.65 percent, just short of the 10.7 percent all-time high reached in July 2008.  The currency's plunge and soaring bond yields spurred speculation of an early Monetary Policy Committee meeting, further adding to the uncertainty.
An early policy meeting "could happen," Abri du Plessis, an economist and money manager at Gryphon Asset Management Ltd., said by phone from Cape Town. "You can't just have a 200 basis point increase in yields and think everything is OK. This is a lot more serious than what the government handles it as. If this goes on, you will see severe reaction."
Rates climbed 169 basis points this week, driving down prices on the securities by the most on record. The cost of insuring the nation's dollar debt against default for five years using credit-default swaps rose 25 basis points to 361, the highest since April 2009.
The next rates meeting will be from Jan. 26 to Jan. 28 as scheduled, Deputy Governor Francois Groepe said in an e-mailed response to Bloomberg's questions.
'Risk Perceptions'
"A rate hike before the scheduled meeting is very unlikely unless the South African Reserve Bank view a financial stability risk, which I don't believe is currently the case," Nomura International Plc analyst Peter Attard Montalto said in e-mailed comments. "They want markets to find clearing levels and understand a structural shift in risk perceptions is occurring and should not be stood in the way of or counteracted."
The FTSE/JSE Africa All-Share Index dropped 1.9 percent as more than four stocks slid for every one that gained. That extended its slide to 12 percent since its previous peak on Nov. 4, a so-called correction. Forty-four stocks hit 52-week lows, while 52 securities on the gauge tumbled into oversold territory, the highest percentage of the overall measure since August 2011, according to data compiled by Bloomberg.

"In moments of panic, it's difficult to make rational decisions," Wayne McCurrie, a money manager at Momentum Asset Management, said by phone from Johannesburg. "When everything is crashing you must look around you and take stock of what's happening -- in their speeches, the President and the minister of finance haven't said they're going to let go of financial prudence. They haven't said they don't care about credit ratings or the rand."
MTN Group Ltd., Africa's largest mobile-phone operator, declined 6.4 percent to its lowest since March 2011 after being downgraded by Fitch Ratings because of risks in Nigeria and South Africa, while some banking, insurance and property stocks slipped to multi-year lows. Harmony Gold Mining Co. rallied for its biggest two-day gain since September 1999, jumping 38 percent, as the rand price of gold jumped to a record.
"Cash is your best friend at this stage," Thando Vokwana, a currency trader at FirstRand Ltd.'s Rand Merchant Bank, the investment banking unit of South Africa's largest bank by market value, said by phone. "You really wouldn't think of ploughing it back into the equity market or even looking at bonds at this stage because there's still scope for much more weakness."
— With assistance by Rene Vollgraaff
Before it's here, it's on the Bloomberg Terminal.
LEARN MORE