Russian Central Bank Leaves Key Interest Rate Unchanged
by and
Majority of 36 analysts predicted benchmark will stay at 11%

Inflation expectations still pose a challenge for central bank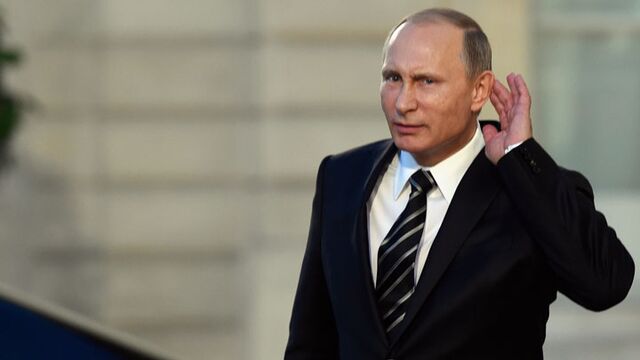 Russia's central bank left its benchmark interest rate unchanged for a third consecutive meeting as a slump in oil prices triggered a new bout of ruble weakness, raising the risk of faster inflation.
Policy makers held the one-week auction rate at 11 percent, the Bank of Russia said in a statement on Friday. Twenty-two of 36 economists predicted the move, with the rest forecasting a reduction of 50 basis points, according to a Bloomberg survey. The central bank said it will restart easing if price growth slows in line with its forecasts and inflation risks recede.
"External conditions remain tough," Governor Elvira Nabiullina said at a news conference in Moscow after the rate meeting. "We are considering a risk scenario with an oil price lower than $40. The latest oil-price trend tells us that the relevance of this scenario has increased."
The collapse in oil prices is the latest shock to sidetrack the central bank from chasing its 4 percent medium-term inflation target. The world's largest energy exporter has careened from one crisis to the next since President Vladimir Putin annexed Crimea from Ukraine in March 2014. With consumer prices growing almost four times as quickly as the goal, policy makers also had to weigh the effects of trade measures against Turkey and a new highway toll. Nabiullina last month left open the possibility of holding borrowing costs until March after five rate cuts brought the benchmark to 11 percent in July.
The central bank lowered the oil price in its risk scenario next year to $35 a barrel, while keeping it at $50 in the baseline case, according to a report published on its website after the briefing.
"While the Bank of Russia confirmed that the next step is likely to be a cut, the weaker ruble and the restrictions imposed on Turkish food are likely to prevent inflation from decelerating as fast as previously anticipated and may delay the resumption of the easing cycle until after the first quarter," Piotr Matys, a strategist for emerging-market currencies at Rabobank in London, said by e-mail. "The main message embedded in the official statement is still fairly dovish."

The ruble maintained losses after the decision and traded 0.9 percent weaker at 69.78 against the dollar as of 7:08 p.m. in Moscow. It's lost more than 8 percent against the dollar since the last rate meeting on Oct. 30, the third-worst performance among 24 emerging-market currencies tracked by Bloomberg. Brent crude, used to price Russia's main export blend, dropped to the lowest since 2008 on Friday after OPEC effectively abandoned output limits last week.
"It is too soon for the central bank to re-initiate rate cuts," Daniel Hewitt, an economist at Barclays Plc in London, said before the decision. "The central bank should wait until annual inflation drops and the run rate of inflation slows considerably."
Inflation Outlook
Inflation slowed for a third month in November to 15 percent from a year earlier. A decision to ban Turkish food products, including tomatoes, cucumbers and tangerines, may add as much as half a percentage point to inflation, Prime Minister Dmitry Medvedev said Wednesday, citing analyst estimates.
While the ban comes into effect Jan. 1, prices have already grown 0.2 percent in the seven days through Dec. 7, the biggest weekly increase since early November, according to the Federal Statistics Service.
Inflation will slow to about 13 percent by the end of the year and decelerate to between 7.5 percent to 8 percent in January-March, mainly because of the base effect, Nabiullina said Friday. She said that the ruble impact on price growth is declining.
The rate decision was made "in recognition of growing inflation risks, while the risks of economic cooling remain," the central bank said in the statement.
Russian policy makers met as the Federal Open Market Committee is poised to raise U.S. interest rates for the first time since 2006 at its Dec. 15-16 meeting. Nabiullina has mentioned possible tightening in the U.S. as one of the biggest threats to Russia's inflation outlook.
Inflation expectations aren't anchored, posing a serious issue for monetary policy that's an even bigger challenge than price growth itself, Bank of Russia First Deputy Governor Ksenia Yudaeva said Nov. 27.
That hinders the central bank's ability to aid an economy battling its first recession in six years. Gross domestic product will contract 3.7 percent this year, according to Economy Minister Alexei Ulyukayev.
Economic Path
The central bank estimates the economy will shrink 0.5 percent to 1 percent in 2016 before growing as much as 1 percent the following year. Annual inflation will be at about 6 percent in late 2016 and is on track to reach the 4 percent target in 2017, according to its statement.
The major sources of inflation risks include further external deterioration against the background of low oil prices, policy normalization by key central banks and a continued slowdown in Chinese economic growth, it said. "Persistently high" inflation expectations, looser fiscal policy and an upward revision in state-regulated tariffs can hamper a decline in price growth, according to the central bank.
"They made the right decision," said Ivan Tchakarov, a Moscow-based economist at Citigroup Inc. "Given that back in October they argued they didn't cut because of elevated inflation expectations, it would have been very illogical to cut now that inflation risks actually seem larger with the ruble-dollar rate and the Turkish ban."
Before it's here, it's on the Bloomberg Terminal.
LEARN MORE