UEFA Boss Michel Platini Sees 90-Day FIFA Suspension Upheld
by
Platini is vying to replace Sepp Blatter as FIFA president

Frenchman was the leading candidate until his suspension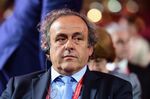 Michel Platini failed in his attempt to overturn a 90-day ban at sport's top court, delivering another blow to the chances of the Frenchman and head of the European soccer federation reviving his candidacy for the presidency of FIFA.
The Court of Arbitration for Sport declined to overturn the suspension handed down by FIFA in October because it would not cause Platini "irreparable harm," the court said Friday in an e-mailed statement. His ban ends Jan. 5, with the FIFA election to replace Joseph "Sepp" Blatter taking place late the following month.
FIFA should not exercise an option to extend the ban by 45 days, however, as that would "constitute an undue and unjustified restriction of Michel Platini's right of access to justice, cause irreparable harm to him and also tip the balance of interest test in his favor," the court said.
Blatter and Platini had asked the court to review their 90-day suspensions after failing to win over FIFA's appeal panel. FIFA's Appeal Committee on November 11 rejected the petitions "in full," upholding the suspensions handed down by its Ethics Committee.
Next week the duo will appear before the ethics panel prior to the German judge, who oversees its adjudicatory chamber, making his final ruling. Both face lengthy bans if found guilty.
Blatter, who's overseen FIFA for nearly two decades, and UEFA president Platini were suspended from all soccer activities after Swiss prosecutors opened an investigation into a delayed 2 million-Swiss franc ($1.97 million) payment from Blatter to Platini. The move essentially ended Blatter's 17-year presidency and delivered a blow to Platini's chances in the Feb. 26 elections for FIFA president.
The French weekly Journal Du Dimanche reported in a Dec. 6 issue that it had documents that showed FIFA and UEFA officials knew about the contract. Thibaud D'Ales, Platini's lawyer, said that supported Platini's contention that he had done nothing wrong.
The newspaper report "is the written proof of the oral contract between Michel Platini and FIFA, as well as the amount and it also confirms that the contract was no secret because it was known about by executives at UEFA and FIFA," D'Ales said at the time. He did not immediately reply to a message seeking comment Thursday on the court's decision.
Before it's here, it's on the Bloomberg Terminal.
LEARN MORE