Canada Clamps Down on Runaway Toronto, Vancouver Home Prices
Greg Quinn and Katia Dmitrieva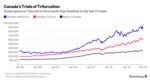 Canadian regulators are seeking to clamp down on runaway prices in the country's two most expensive housing markets -- Toronto and Vancouver.
In a coordinated effort by the three federal agencies that oversee home borrowing, Canadian authorities Friday said they would raise downpayment requirements for homes above C$500,000 ($364,750), while making it more costly for banks to fund lending to that market.
The move is the biggest signal yet that policy makers are worried markets in Toronto and Vancouver have become overinflated and are a risk to the nation's financial system. The balancing act for Finance Minister Bill Morneau is to target higher-end homes in those two cities, without precipitating a major decline elsewhere in the country where prices are falling or flat.
"In the Toronto and Vancouver market, we have seen house prices that have been elevated, and we want to make sure that we create an environment that protects the people that are buying their homes so they have sufficient equity in their home," Morneau told reporters in Ottawa, adding he doesn't think those two markets are in bubble territory.
Years of surging prices, a condo construction boom and low borrowing costs have drawn warnings from the International Monetary Fund and Canada's own housing agency. The market is being stoked by interest rate cuts this year by the Bank of Canada, aimed at offsetting the oil price collapse, and there is little chance benchmark interest rates are poised to rebound any time soon.
C$1 Million Homes
In Vancouver, the average price for a detached home has jumped to almost C$1.6 million, prompting speculation an influx of foreign buyers is behind the surge. A detached home in Toronto also averages more than C$1 million. The average sale price of a home in Toronto this year -- including condos and semi-detached residencies -- is C$621,883, up 9.9 percent from a year ago. In Vancouver, it's up about the same amount to C$893.864. The national average price is C$441,131.
"Any way to kind of temper that growth will probably be a good thing, because at some point rates will go up and there will be an impact," Bharat Masrani, Chief Executive Officer of Toronto-Dominion Bank, Canada's largest lender by assets, told Pamela Ritchie in a Bloomberg TV Canada interview Friday.
Three federal agencies -- the Canada Mortgage & Housing Corp., the Office of the Superintendent of Financial Institutions and the federal finance department -- announced tightening measures all within half an hour of each other.
At a press conference outside the House of Commons, Morneau said downpayments on homes will double to 10 percent on the portion of the house price between C$500,000 and C$1 million, starting Feb. 15. The threshold will remain at the current 5 percent level for anything below that mark. Homes worth more than C$1 million, which don't qualify for government insurance, will still require a minimum 20 percent downpayment.
Benjamin Tal, deputy chief economist at Canadian Imperial Bank of Commerce in Toronto, estimated in a report Friday the downpayment rule will affect 5 percent of new sales in Toronto and 2.5 percent in Vancouver.
New Capital Rules
Canada's bank regulator and housing agency also outlined new rules for residential lending and government guarantees on mortgage-backed bonds.
In a separate release, OSFI said it would raise the minimum amount of capital lenders and insurers need to set aside on residential mortgage loans in case of default. For the country's biggest banks, the new capital requirements will be tied to local housing conditions and incomes. For example, a C$1 million home in Toronto where incomes may be far below that cost would have a higher requirement than a cheaper real-estate market where home prices are more in line with incomes.
The rules are meant to help the country's banks and insurance providers "absorb severe but plausible losses," Mark Zelmer, deputy superintendent of OSFI said in a statement. The rapid rise of prices across Canada make those potential losses more severe, he said.
The bank regulator is consulting with the private sector next year and looks to have new regulations in place by 2017, it said.
In their release, Canada Mortgage & Housing Corp. said it will set higher fees for the guarantees it offers on debt backed by mortgages, aiming to "encourage the development of private market funding alternatives." The move by the state-owned housing agency adds to a string of small measures in recent years to reduce its exposure to the housing market.
First Briefing
Morneau, who also spoke with Bank of Canada Governor Stephen Poloz on the issue, said housing was one of the first briefings he sought after his Liberal Party won an Oct. 19 election.
Morneau's predecessor under the previous Conservative government -- Joe Oliver -- had rejected a similar proposal earlier this year, according to people familiar with the discussions, amid worries it would impact the ability of first-time home buyers to get into the market and cloud one of the few bright spots of Canada's economy.
Still, the trend has been for policy makers to tighten the market in recent years as interest rates have hovered at historic lows. Oliver's predecessor, Jim Flaherty, tightened mortgage rules multiple times since 2008, including lowering amortization periods and limiting the amount homeowners can borrow against the value of their homes.
That government officials have failed to slow the market doesn't bode well for the latest steps, said Derek Holt, an economist at the Bank of Nova Scotia.
"On balance the sharp rule tightening since 2008 hasn't had much of an effect on the housing market," Holt said in a note, citing low interest rates and the fact that homebuyers can obtain downpayments through other forms of leveraging.
(Updates with average sales price in sixth paragraph.)
Before it's here, it's on the Bloomberg Terminal.
LEARN MORE