Fosun International Shares Halted on Report Guo Unreachable
Bloomberg News
Dollar bonds due in 2020 fall by a record 16.1 cents

Caixin reports that company has `lost contact' with Guo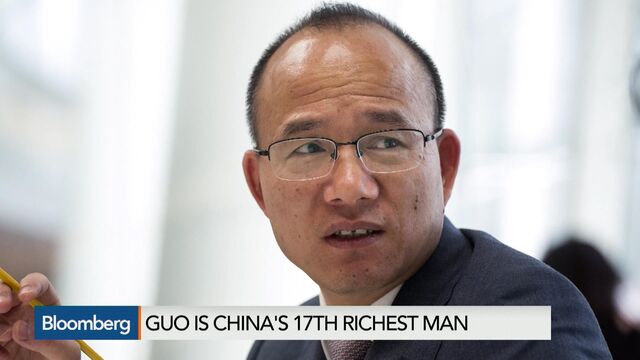 Fosun International Ltd., the publicly traded arm of Chinese billionaire Guo Guangchang's holding company, was suspended in Hong Kong after Caixin magazine reported that he had gone missing.
The closely held group has "lost contact" with Guo, 48, the magazine said.
The shares declined for a sixth consecutive day on Thursday in Hong Kong, losing 1 percent to close at HK$13.34, and tumbled more than 11 percent to $1.55 in over-the-counter trading in New York. Dollar bonds of the company fell by a record, with the $400 million of 6.875 percent bonds due in 2020 slumping 16.1 cents to 88.3 cents on the dollar as of 9:10 a.m. in Hong Kong.
Guo, who calls himself a student of Warren Buffett, built Fosun Group into an empire spanning everything from insurance to holiday resorts through dozens of deals over the past three years, most of them made through Fosun International. His companies own Club Mediterranee SA and Greek jewelry brand Folli Follie, as well as a stake in Cirque du Soleil Inc.
"The missing chairman is going to have a big impact on investing in China and the performance of the company," said Cyrus Ng, an analyst in Hong Kong at China Galaxy Securities Co.
Fosun International has announced 16 deals worth a combined 29 billion yuan ($4.5 billion) this year, according to data compiled by Bloomberg. Some of Fosun's biggest acquisitions include One Chase Manhattan Plaza in New York. In July, it said it bought the former Milan headquarters of Italy's UniCredit SpA.
Guo is China's 17th richest man with a net worth of $5.6 billion, according to the Bloomberg Billionaires Index. Guo co-founded Fosun with four friends and about $6,000 in capital in the 1990s and later built it by borrowing from the investing approach used by Buffett's Berkshire Hathaway Inc.
In August, China's official Xinhua News Agency said Guo granted favors to an executive of a state-owned company 12 years ago in exchange for unspecified benefits, according to a report in the Wall Street Journal. Guo wasn't accused of wrongdoing, according to that report.
— With assistance by Dingmin Zhang, and Emma Dong
Before it's here, it's on the Bloomberg Terminal.
LEARN MORE