Fosun Bonds Sink as Report of Missing Guo Fuels China Angst
Bloomberg News
Dollar bonds sink by record, shares of related companies drop

Caixin reports that company has `lost contact' with Guo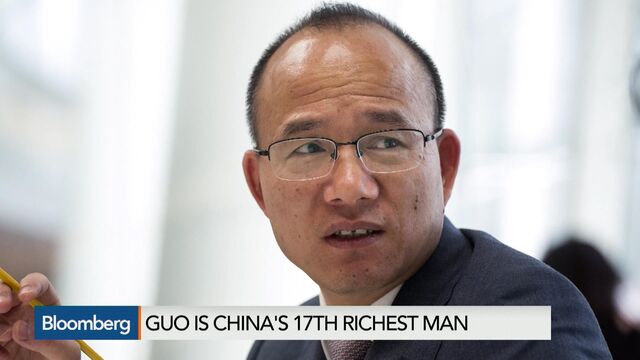 Fosun International Ltd. bonds plunged by a record and the company suspended its shares in Hong Kong after Caixin magazine reported that billionaire Chairman Guo Guangchang had gone missing.
Fosun Group has "lost contact" with Guo, the magazine said Thursday, citing people it didn't identify. Guo, 48, is assisting an investigation into former Shanghai vice mayor Ai Baojun, according to people familiar with the situation, who asked not to be identified as they weren't authorized to speak publicly on the matter. Sohu.com reported earlier Friday that Guo is helping with Ai's probe. Fosun Group spokesman Chen Bo said by text message that he had no information to disclose, when asked about the probe.
Caixin's report rippled through markets in Shanghai, Hong Kong and New York as investors sold shares linked to the conglomerate spanning businesses from insurance to pharmaceuticals. Speculation over Guo's whereabouts comes less than three weeks after the disappearance of Yim Fung, the chairman of Hong Kong-listed brokerage Guotai Junan International Holdings Ltd. More than 30 senior executives of listed Chinese companies have gone missing or faced government probes this year, according to the state-run Securities Times.
Clear Impact
"The news is having a clear impact on the market as investors are concerned with similar situations happening in other companies," said Gerry Alfonso, a sales trader at Shenwan Hongyuan Group Co. in Shanghai. "Investors are likely to look closer at the management of companies before making decisions and try to assess the risk of this type of incident."
China's corporate executives have come under increased scrutiny as part of President Xi Jinping's biggest crackdown on graft since the republic's founding in 1949. The campaign has brought down more than 100 senior officials, including top generals, a former presidential aide and the nation's retired security chief.
Many of China's probes this year have focused on state-owned enterprises, such as Guotai Junan and Citic Securities Co. While there's no evidence that Guo has been implicated in a probe, any sign of an investigation into him or his $15 billion company would unnerve investors because it's one of the nation's largest private firms, according to Ample Capital Ltd.'s Alex Wong.
"Fosun is a company with a history, and people like the business model," said Wong, who helps oversee $150 million as an asset-management director at Ample Capital in Hong Kong. "This is a popular private enterprise."
The Shanghai Composite Index fell to a five-week low, while companies linked to Fosun lost at least $2.9 billion of value, according to data compiled by Bloomberg. Shares with a market capitalization of about $34 billion, including Fosun International and Shanghai Fosun Pharmaceutical Group Co., were halted from trading.
Fosun International's $400 million of 6.875 percent bonds due in 2020 slumped 16.1 cents to 88.3 cents, before trading at 92.78 cents as of 5:45 p.m. in Hong Kong. Shares tumbled more than 11 percent to $1.55 in over-the-counter trading in New York on Thursday.

"The news that the chairman went missing will take a toll on the bond prices," said Nuj Chiaranussati, a Singapore-based debt analyst at Gimme Credit LLC. "Until the company can clarify the situations, we'd expect further weakness in the near term."
Fosun International suspended trading pending "release of an announcement containing inside information," while business operations "remain normal," spokesperson Chen said on Friday in a text message. He didn't immediately respond to a request for comment on the Sohu report.
This isn't the first time speculation over Guo's whereabouts has roiled trading in Fosun-linked companies. Shanghai Fosun Pharmaceutical tumbled as much as 10 percent on Nov. 22, 2013, amid rumors that Guo had been detained. Fosun International said the speculation was "unfounded" and shares recouped losses within two weeks.
Billionaire Dealmaker
In August, China's official Xinhua News Agency said Guo granted favors to an executive of a state-owned company 12 years ago in exchange for unspecified benefits, according to a report in the Wall Street Journal. Guo wasn't accused of wrongdoing, according to that report.
Guo, who calls himself a student of Warren Buffett, expanded his empire through dozens of deals over the past three years, most of them made through the Hong Kong-listed Fosun International. His companies own Club Mediterranee SA and Greek jewelry brand Folli Follie, as well as a stake in Cirque du Soleil Inc. Fosun International also has holdings in listed businesses such as Sina Corp., a Chinese Internet company, and China Minsheng Banking Corp.
This year, Fosun International has announced 16 deals worth a combined 29 billion yuan ($4.5 billion), according to data compiled by Bloomberg. Some of Fosun's biggest acquisitions include One Chase Manhattan Plaza in New York. In July, it said it bought the former Milan headquarters of Italy's UniCredit SpA.
The company has announced $2 billion in acquisitions this year that have yet to be completed. Fosun is competing for Anglo-German banking group BHF Kleinwort Benson Group and agreed to acquire Israeli insurer Phoenix Holdings Ltd. in June. Fosun is in the process of acquiring German private bank Hauck & Aufhaeuser Privatbankiers KGaA and is among investors offering to take Chinese movie studio Bona Film Group Ltd. private.
The buying spree by the company has pushed its total debt to 113.7 billion yuan as of Aug. 31, 70 percent more than it reported at the end of 2013, according to data disclosed in the prospectus for its rights offering on Oct. 5.
Guo co-founded Fosun with about $6,000 of capital in the 1990s, after selling bread door-to-door to help support himself through college. He's now China's 17th richest man with a net worth of $5.6 billion, according to the Bloomberg Billionaires Index.
— With assistance by Dingmin Zhang, Emma Dong, and David Yong
Before it's here, it's on the Bloomberg Terminal.
LEARN MORE