business
Dow-DuPont Merger Likely to Face Antitrust Scrutiny Worldwide
By , , and
Merger-to-breakup scenario creates challenges for regulators

Transformative deals often affect competition, experts say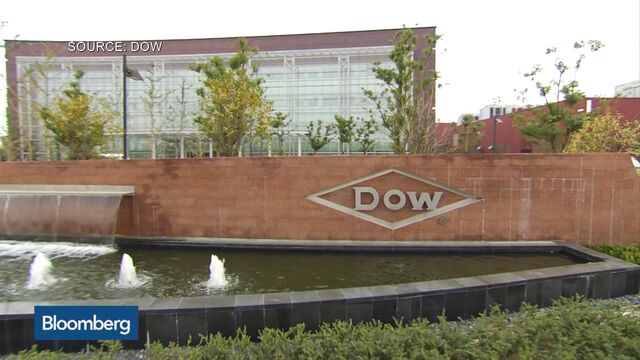 While Dow Chemical Co. and DuPont Co. executives appear confident that regulatory tangles aren't on the horizon for the $120 billion "merger of equals" announced Friday, the deal is likely to face protracted antitrust analysis worldwide, according to Bloomberg Intelligence.
The structure of the deal brings the two biggest American chemical producers together before breaking them up into three businesses: agriculture, specialty chemicals and commodity chemicals. That poses a particular challenge for regulators as the competitive landscape is reshaped, according to Allen Grunes, a former Justice Department antitrust lawyer now with Konkurrenz Group in Washington. An antitrust investigation would focus on individual product lines where the two compete and where there are few other rivals to keep prices in check.
"The bigger and more transformative the deal, the more likely it will in fact affect competition in some fashion, even with a remedy," Grunes said. "It's highly doubtful that a merger that realigns an entire industry changes nothing from a competitive standpoint."
DuPont Chief Executive Officer Edward Breen said Friday there was little direct competition between the two companies, apart from some overlap in the agriculture sector. Even then, only "very minor" divestitures would result, if any, he said. Other markets the companies sell products to include automobile and personal care industries.
Little Overlap
"The actual products do not overlap hardly at all in these two companies," Breen said in an interview on Bloomberg TV. "When you do the math and look at everything, we don't have a concern."
The companies' combined agricultural assets would result in the industry's No. 2 in seeds and No. 3 in crop protection, according to Sanford C Bernstein & Co. analysts. Dow's corn-seed sales likely will be divested for antitrust reasons, potentially to Syngenta, while DuPont's nutrition and health and industrial biosciences units could stay within the new agriculture division, the analysts said.
Bloomberg Intelligence analysts Jennifer Rie and Jason Miner said the transaction may win approvals with some divestitures in agriculture and other niche products if regulators take a narrow view of market overlaps.
U.S. Review
In the U.S., the Federal Trade Commission has typically reviewed chemical deals, while the Justice Department has focused on the agricultural sector. It isn't clear which will take the lead on Dow-DuPont and the agencies may need to hammer out a clearance agreement to decide.
"It's an unusual case of both a merger and a de-merger," said Alan Riley, professor of law at City University Law Scool in London. "That is a tricky thing to pull off, because it's not just pulling off the merger and the de-merger, you've got to do both of those and get" the U.S., the European Union and others around the world to agree to it.
— With assistance by Patrick Gower
Before it's here, it's on the Bloomberg Terminal.
LEARN MORE