Dow Chemical to Swap Buffett's $3 Billion Stake If Rally Holds
by and
CFO says Dow plans to force conversion of preferred holding

Share price needs to stay above $53.72 before Dow can swap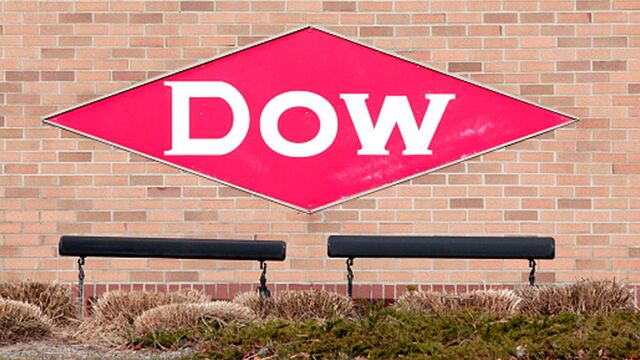 Dow Chemical Co., which has been paying $255 million annually in dividends to Warren Buffett for years, may have finally found a way to end that obligation.
Dow jumped in New York trading this week ahead of the announcement of an all-stock merger with DuPont Co., closing at $56.97 Wednesday. That's above the price at which the company can convert Buffett's $3 billion preferred stake into common stock that pays a lower dividend.
There is one catch: Dow must close above $53.72 for 20 days in a 30-day trading period. The stock changed hands for just $53.37 at 4:15 p.m. in New York Friday. Still, the Midland, Michigan-based company said it was looking forward to swapping the holdings if the stock trades at a high enough value.

"We do intend to force that conversion," Chief Financial Officer Howard Ungerleider said in a conference call Friday after the DuPont deal was announced. He said the addition of common stock would give Dow investors ownership of 52 percent of a combined company after the DuPont deal is completed, up from 50 percent.
Buffett's Berkshire Hathaway Inc. got the preferred stake for helping to finance Dow's takeover in 2009 of Rohm & Haas Co. Kuwait's sovereign wealth fund also helped and got $1 billion of the securities.
The deal gave Buffett the right to exchange its preferred stake for about 72.6 million shares of the chemical maker's common stock at a conversion price of $41.32 each. The billionaire declined to exercise that option, given the attractiveness of the annual 8.5 percent dividend at a time when bond yields are near historic lows.
Buffett's View
"We do well if the common at Dow does well," Buffett said in 2012. "We also do well on the coupon on Dow." The billionaire didn't immediately return a call seeking comment Friday.
Dow has traded for less than $50 a share for most of the past five years. The stock did climb past $53.72 in 2014, but that rally reversed before Dow could force a conversion.
Before it's here, it's on the Bloomberg Terminal.
LEARN MORE