business
Democracy Icon Walesa Joins Protest Against Poland's Government
By
Law & Justice reshaping politics, admires Hungarian PM Orban

`This is Warsaw, not Budapest,' protesters shout during march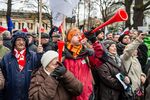 With chants of "we'll save democracy" and "nobody's above the law," thousands of people marched in an anti-government protest in Warsaw.
Less than a month after forming government, the Law & Justice party's zeal in consolidating power brought people onto the streets Saturday, uniting much of the opposition against what demonstrators see as constitutional breaches by the new administration and its ally, President Andrzej Duda. An opinion poll last month showed a majority of Poles see a threat to democracy after Jaroslaw Kaczynski's party won unprecedented power in this year's general and presidential elections.
Kaczynski is following in the footsteps of Hungarian Prime Minister Viktor Orban in setting out to use its majority to reshape the country's political landscape. Law & Justice has forced out the head of the country's anti-corruption agency, limited the opposition's oversight of secret services and outlined plans to overhaul public media, raising concerns about the system of checks and balances, guaranteed by the constitution.
"This is Warsaw, not Budapest," protesters shouted in the Polish capital, many carrying red-and-white Polish flags as well as blue-and-gold European Union emblems. The municipal government estimated about 50,000 participants.
'Cold Winter'
The nation's highest court ruled this week that regulations passed by Law & Justice in November breached the constitution on multiple counts, siding with opposition lawmakers, the country's human rights ombudsman, its chief prosecutor, the National Court Council and the head of the highest administrative court. Duda refuses to adhere to the tribunal's rulings, which force him to swear in three justices picked by the previous parliament.
Instead, he's sworn in five justices appointed by the new parliament, drawing criticism from the Council of Europe, a human-rights group. The head of the European Parliament also called on Poland's ruling majority to honor the court's decisions.
Duda says he considers the case closed, and government spokeswoman Elzbieta Witek said Friday that the cabinet is fulfilling all its legal obligations in the matter. Kaczynski told TV Republika in an interview that day that his political opponents carry a "gene of betrayal" regarding Poland's national interests.
"Look what Jaroslaw Kaczynski has done -- he's brought us all together, after only one month," Ryszard Petru, leader of the Nowoczesna opposition party, told protesters in Warsaw. "The sun came out for a few moments today but cold winter months are ahead before spring returns."
Before it's here, it's on the Bloomberg Terminal.
LEARN MORE