Consumer Sentiment in U.S. Rose in December to Four-Month High
Shobhana Chandra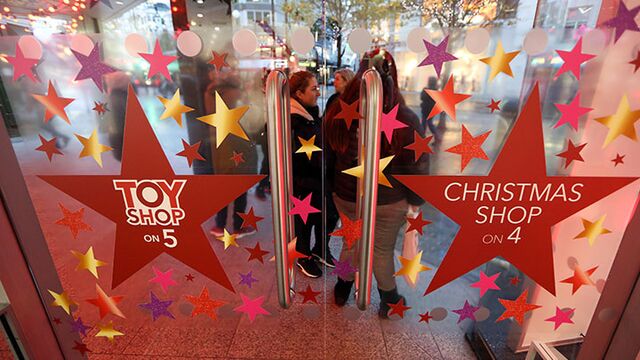 Consumer confidence climbed in December to the highest level in four months as favorable perceptions about household finances made Americans more upbeat about shopping.
The University of Michigan's preliminary index of sentiment rose to 91.8 from 91.3 in November. The median projection in a Bloomberg survey called for 92. The gauge has averaged 92.9 this year, the best since 2004.
All of the increase in confidence this month was attributed to households at the bottom two-thirds of the income ladder, reflecting the cheapest gasoline since 2009 and better employment prospects. At the same time, consumers were less sanguine about the outlook for wages even as they anticipated inflation to remain tame.
"Buying plans remained very favorable due to the availability of discounted prices and low interest rates," Richard Curtin, director of the University of Michigan consumer survey, said in a statement. "Buying conditions for household durables were rated favorably by 81 percent of all consumers, the highest level since January 2006."
Retail sales climbed in November by the most in four months, the Commerce Department said earlier.
Consumer confidence estimates in the Bloomberg survey of 63 economists ranged from 86.5 to 95.
The current conditions index, which takes stock of Americans' view of their personal finances, advanced to 107, the highest since July, from the prior month's 104.3.
The measure of expectations six months from now decreased to 82 from 82.9.
Americans expected the inflation rate in the next year will be 2.6 percent, compared with 2.7 percent in the November survey. Over the next five to 10 years, they expect a 2.6 percent rate of inflation, the same as the previous month.
Labor Market
The labor market continues to strengthen. Payrolls climbed by 211,000 in November and the jobless rate held at a more than seven-year low of 5 percent, according to Labor Department data released last week.
Wage gains, though, remain tepid. Hourly pay cooled to a
2.3 percent increase in November from a year earlier, holding within the narrow range tracked over the past four years.
"While inflation was expected to remain low, consumers anticipated somewhat lower wage gains and were less optimistic about continued declines in the national unemployment rate," Curtin said.
Consumers are also getting ready for higher interest rates. The Michigan survey showed two-thirds expect borrowing costs to increase in the coming year. Federal Reserve policy makers meeting next week are projected to raise their benchmark interest rate for the first time since 2006.