Photographer: Michael Probst/AP Photo
Charting the Markets: The Week to Forget for Global Stock Investors
Global stocks fall to one-month low, iron ore sinks for a 9th week to a record low and Japan's yen heads for biggest weekly gain in 3 months.
by
Global stocks are falling for a fifth day as energy companies track the price of oil lower. Crude oil is dropping for a sixth day, the longest losing streak since March. In that period it's sunk by 11 percent after OPEC effectively binned its production targets. The Bloomberg World Energy Index is heading for its third weekly drop, its worst run since August.

Wednesday's Federal Reserve interest rate decision is getting closer, and investors are becoming more cautious. The MSCI All Country World Index is set for a third weekly decline. Since the gauge closed at an almost three-month high on Nov.3, it has slipped 3.7 percent. Still, it's rebounded from a two-year low in September. Emerging market stocks are dropping for an eighth day, the longest losing run since June. A slump in commodity prices to a 16-year low, concerns about China's economic slowdown and the prospect of higher U.S. interest rates lessen the appeal of riskier assets. 

Iron ore's weekly losing streak is the longest since the height of the global financial crisis in October 2008. This week ore with 62 percent content delivered to Qingdao, a global benchmark, closed below $40 a dry metric ton for the first time in at least seven years as low-cost supplies expand. The likes of Rio Tinto and BHP Billiton are increasing output at a time Chinese demand for steel drops as it shifts the economy away from heavy industry. Miners won't cut production - just like OPEC won't cut its output - on concern volumes would be taken by less efficient rivals. Iron ore has plunged 46 percent in 2015. 

Japan's yen is the world's best performing major currency against the dollar this week, rising almost 1 percent, as haven assets benefit ahead of next week's Federal Reserve meeting. The yen has also risen against all 31 of its major peers in the past six months, throwing into doubt the Bank of Japan's ability to reach its 2 percent inflation goal by around March 2017. Lower oil prices are set to drop out of inflation measures next year, but that may be undone by a rising currency, which pushes down import prices. JPMorgan Chase and Morgan Stanley predict the yen will outperform all its peers in 2016.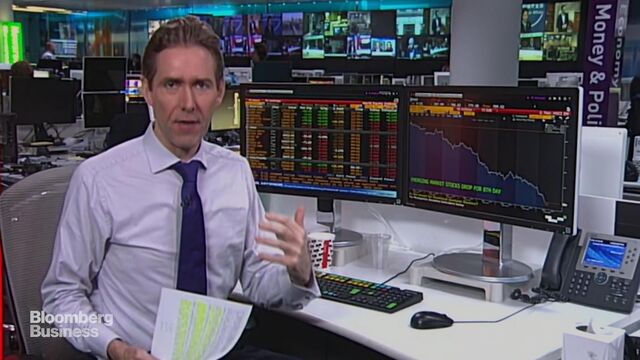 Mark Barton is a presenter on Bloomberg TV. Follow him on Twitter @markbartontv 
Before it's here, it's on the Bloomberg Terminal.
LEARN MORE