Brazil Stocks, Real Decline as Dispute Fuels Political Turmoil
Denyse Godoy and Paula Sambo
Ministers Levy, Barbosa reported to quarrel over fiscal target

Lenders fall as Moody's may cut rating on economic outlook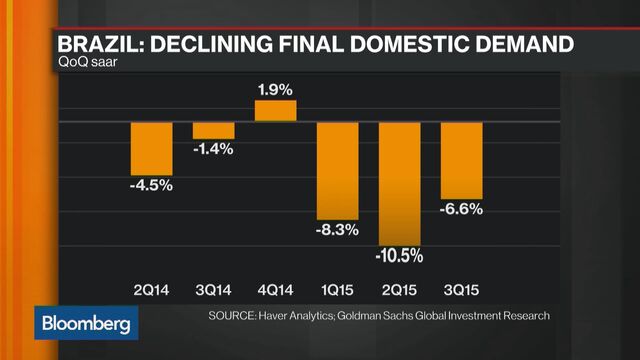 Brazilian stocks and the real declined amid speculation that tension between Finance Minister Joaquim Levy and Planning Minister Nelson Barbosa over fiscal policy are heating up again, adding another hurdle to passing reforms needed to shore up the budget and resume growth.
Levy is seeking a target of 0.7 percent of gross domestic product for the budget surplus before interest payments next year to restore credibility and avoid further credit-rating downgrades, a Valor Economico newspaper columnist reported Friday. Barbosa wants to lower the target to between zero and 0.7 percent, the columnist said. The dispute comes as Congress is already locked in a political stalemate amid efforts to impeach President Dilma Rousseff and as the lower-house leader faces allegations of corruption.

Markets also took a hit after Moody's Investors Service lowered the ratings on iron-ore miner Vale SA and signaled other cuts are on the horizon. After saying, on Dec. 11, that it may reduce the nation's sovereign credit rating to junk amid forecasts for the longest recession since the 1930s and political turmoil, Moody's on Thursday said it would review lenders including state-controlled Banco do Brasil for downgrades.
"The political and economic situations make investors very concerned, especially considering that all the internal disputes in the government may lead to the exit of Levy, which would be horrible," Filipe Borges, a trader at the brokerage Solidez Corretora, said from Sao Paulo. "The possible downgrades for Brazilian companies just show how uncomfortable everybody is with the prospects for the country, and, then, all our assets suffer."
The Ibovespa retreated 0.8 percent to 45,262.72 in Sao Paulo, with two stocks falling for every one that rose. The real slid 1.6 percent to 3.8728 per dollar. One-month implied volatility rose to 22.75 percent, the highest since Oct. 21. The currency declined 3.1 percent this week.
Vale slumped 3.6 percent to 9.59 reais as iron ore extended declines for a ninth week. Oil producer Petroleo Brasileiro SA followed crude lower as as decline in prices for the commodity dimmed the outlook for the company's offshore investments.
Swap rates on the contract maturing in January 2017, a gauge of expectations for changes in Brazil's interest rates, rose 0.01 percentage point to 15.99 percent. They have climbed 0.22 percentage point this week.
Valor and O Estado de S. Paulo newspaper also reported late Thursday that Levy is threatening to leave his post if his budget target isn't approved, further fueling a jittery market.
"Market skepticism toward the fiscal-adjustment program is high, and losing Levy now would only add to market turbulence," Reginaldo Siaca, a currency manager at TOV Corretora de Cambio, said from Sao Paulo. "I've been in this market for 40 years and have never seen a confidence crisis this severe."
Before it's here, it's on the Bloomberg Terminal.
LEARN MORE