An Economist Says He Has Proof Poloz Is Worse for the Canadian Dollar Than Carney
by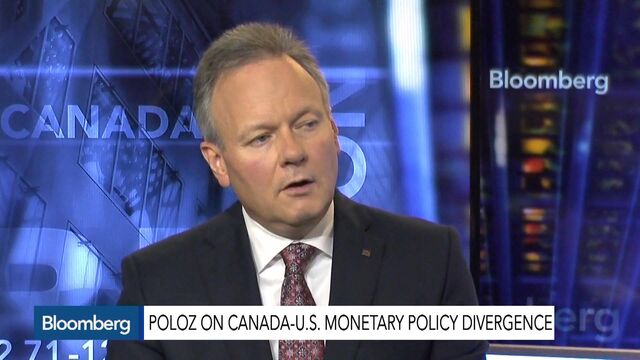 The Canadian dollar has lost nearly one quarter of its value against the U.S. dollar since Stephen Poloz succeeded Mark Carney as governor of the nation's central bank.
Since Poloz formerly led Export Development Canada—the equivalent of the Export-Import Bank in the U.S.—it was presumed that he would seek a lower loonie even before he had officially taken office. His public statements have generally tended to keep the loonie on its back foot, although he has never directly talked down the currency—unlike other central bankers such as Glenn Stevens, governor of the Reserve Bank of Australia.
But Krishen Rangasamy, senior economist at National Bank of Canada,  believes there's some truth to rumors that the governor is actively seeking to foster weakness in the Canadian dollar.
"While the Bank of Canada will correctly point to oil as the major reason for the loonie's woes, it's also fair to say the Governor's dovish statements haven't helped," the economist argued.  
As such, Poloz's statement this week that the central bank could cut interest rates below zero if warranted—although the need does not exist at present—becomes much more reasonable in light of a presumed goal of a lower currency.
According to Rangasamy, there's proof that the governor has been successful in achieving this end.
The economist produced a chart showing that the Canadian dollar has experienced more severe declines relative to drops in commodity prices under Poloz's tenure atop the Bank of Canada than his predecessor's:

This sort of analysis is questionable, however, as it fails to account for the proximate cause of falling commodity prices over each central banker's tenure, as well as other factors that might be influencing currency fluctuations.
The first downdraft in commodities during Carney's term coincided with the financial crisis, which had the U.S. at its epicenter. Canada was a recipient of safe haven flows because the nation's economy didn't suffer as large a blow as the U.S. and its financial system was nowhere near as compromised, all of which helped support the value of the loonie. And when the Bank of Canada's commodity index peaked in 2011, the Great White North still posted stronger growth than its American peers that year. Moreover, the yield on Canadian government two-year bonds commanded a substantial premium over U.S. Treasuries of the same maturity, helping to further support flows into the currency.
To borrow a well-worn phrase, this time is different. A supply-driven collapse in the price of oil and other commodities has occurred at a time when U.S. private demand is strengthening and investment in Canada's oil patch had already shown signs of peaking prior to the downdraft. Accordingly, monetary policy and short-term government bond yields have diverged, reducing the relative attractiveness of Canadian financial instruments.
But Poloz didn't need any help eliciting softness in the loonie on Tuesday as he discussed different forms of unconventional monetary policy that could be deployed in Canada.
The Canadian dollar "is suffering not at the hands of Poloz, who indicated that negative rates are possible (but never to be used), but rather solely and wholly at the hands of oil, black gold and all that jazz," asserted Ken Veksler, director at Accumen Management.
Circumstances—a relatively tapped-out Canadian consumer and now the pain in the commodities complex—have necessitated a need for the external sector to drive growth. And to that end, Poloz seems been fated to act out this role of Depreciator-in-Chief.
Before it's here, it's on the Bloomberg Terminal.
LEARN MORE