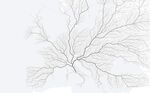 Over the course of centuries, the Roman Empire built some 50,000 miles of highways, criss-crossing the ancient Mediterranean world from Britain to modern-day Turkey, from the Danube River to northern Africa. According to Encyclopaedia Brittanica, the vast number of feeder roads stretching into the empire's provinces led to that famous saying about the Italian capital.
Today, modern highways and arteries have mostly replaced the ancient transit system (though some fragments still exist). Which raises the question: Do all roads still lead to Rome?
moovel lab, a German urban design team, has an answer. Data visualizers layered a grid of 486,713 cells on top of an open-source digital road map of Europe. They then developed an algorithm to calculate a route to Rome from each one of those cells, and found that yes, indeed, there was a way from every point (although it might be a stretch to say that "all roads" lead to the city). The map above shows those routes; The thicker the road segment is drawn, the more frequently that road was used across all routes.

The team also applied a similar algorithm to the 10 places in the U.S. named Rome. "[W]e adjusted our routing to find [routes to] the closest Rome to every location in the USA," they write. "Every location is connected to the nearest Rome according to fastest travel time." The different colors represent routes that connect to the closest Rome.

Following that line of thought, moovel lab then examined the shortest routes to every U.S. state capital from every point (based on a similar grid) in the U.S. This might be the most interesting map of all, given what it reveals about how road systems follow state borders—or not. The designers write (quirky grammar and capitalizations their own):
Remarkable are the different road networks throughout the States. While the east coast seems to rely on roads parallel to the coast. The rockies and appalachian mountains reveal their topography with their curvy roads containing some blank spots not reached by any road. While the mid west of the USA show long straight road networks in rectangular alignment.