Zuma Takes S. Africa Economy to Brink as Credit Risks Rise
by and
Shock cabinet change comes within week of rating downgrade

Economy hit by slump in metal prices, power constraints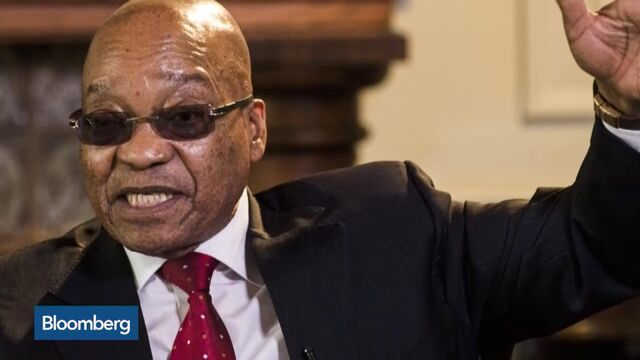 South African President Jacob Zuma took the economy closer to the brink of a junk credit rating after firing his finance minister in a move investors say may undermine fiscal credibility.
Zuma removed Nhlanhla Nene from his post after 19 months without giving any reasons except to say that he would be moved to another key role. His replacement is David van Rooyen, a lawmaker who is little known to South Africans or investors. 

The shock move came less than a week after credit-rating companies pushed the nation closer to junk status, citing concerns over a sluggish economy and rising debt. Nene's departure, and uncertainty relating to his successor, raises questions about whether the National Treasury can stick to its spending targets.
"Especially at this point in time, we can ill afford to antagonize international investors," Mohammed Nalla, head of strategic research at Nedbank Group Ltd., said by phone from Johannesburg. "An event of this magnitude can even be the catalyst for a credit-rating downgrade to junk status. It could lead to a complete loss of investor confidence in South Africa, which could push us into a recession."
The rand dropped as much as 5.4 percent against the dollar after Zuma's announcement, the biggest decline since September 2011, hitting a new record low of 15.3857. Yields on benchmark government bonds due December 2026 soared 65 basis points to 9.46 percent, the highest since the 2008 global financial crisis.
Strained Economy
On Dec. 4, Fitch Ratings Ltd. cut the country's debt to BBB-, the lowest investment-grade level, while Standard and Poor's lowered the outlook on its equivalent rating to negative. Fitch said looser fiscal policy, such as upward revisions to expenditure ceilings, may lead to more negative actions.
"We are not so concerned about the person but rather whether Treasury controls the line on fiscal deficits and the debt stock, which we are watching," Ravi Bhatia, director of sovereign ratings at Standard & Poor's in London, said in an e-mailed response to questions. "South Africa is on negative outlook and our concerns highlighted in our last outlook statement remain."
The economy is under strain because of plunging metal prices and power constraints. The central bank is forecasting growth of 1.4 percent this year, which would be the slowest pace since the 2009 recession.
Investors are concerned that "worsening macro performance will lead to a more politicized approach to fiscal policy and structural reform," Arnab Das, head of EM Macro at Invesco in London, said by e-mail. "There is also a threat that further ratings downgrades may well lead to South Africa's exclusion from global government bond indices in the next one to two years."
Van Rooyen is the third finance minister since Zuma came to power in 2009. In that period, gross debt has surged from about 26 percent of gross domestic product to almost 50 percent. While Nene has sought to contain spending in a bid to rein in a widening budget deficit, his efforts have been frustrated by the government awarding above-inflation wage increases to workers over three years.
Nene said in the mid-term budget in October the fiscal deficit will reach 3.3 percent in the fiscal year through March 2017, from 3.8 percent this year, and will narrow to 3 percent in the year through March 2019.
"We are just trying to assess whether there will be any change in policies associated with the change in Treasury leadership," Kristin Lindow, senior vice president at Moody's Investors Service, said by phone from New York on Wednesday. Moody's downgraded South Africa's credit to two level above junk last November, with a stable outlook.

"The sudden removal of the high profile and respected Nene, and his replacement with a relative unknown, is likely to be seen as a worrying signal about the government's commitment to fiscal discipline and generate further market volatility," Peter Worthington, an economist at Barclays Plc's Africa unit in Johannesburg, said in a note to clients.
The economy has floundered under Zuma's leadership. The government has introduced a series of laws that companies say foster uncertainty and discourage investment, while spending decisions, such as the capping of university fees, were taken without proper budgeting. Key state-owned companies, such as the electricity utility Eskom Holdings SOC Ltd., have been dogged by leadership problems and funding shortages.
A former intelligence operative with no formal education, Zuma took control of Africa's second-largest economy just weeks after prosecutors dropped graft charges against him. He's continued to be dogged by scandals, including squandering taxpayers' money in a 215 million-rand ($18 million) upgrade of his private home. He denies any wrongdoing.
Presidential Power
The president's power stems from his dominance of the African National Congress, which has governed South Africa since the first multiracial elections in 1994. He has appointed allies to key posts and shored up his popular support by extending welfare grants to more than 16 million people, almost a quarter of the population.
Nene's departure suggests that "Zuma's moves are now firmly dictated by political considerations, with little moderating influence from economic policy or market pressures," Anne Fruhauf, vice president at New York-based risk adviser Teneo Intelligence, said in an e-mail. "Nene had already battled hard to contain spending pressures ahead of the 2016 budget, and his inexperienced, politically weaker successor will struggle even more to steady the ship."
Before it's here, it's on the Bloomberg Terminal.
LEARN MORE