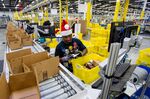 The day before Thanksgiving, Nam Paan dressed for his job interview in a black hooded sweatshirt and matching sweatpants. The 24-year-old walked into a hotel near the Seattle-Tacoma International Airport, and one hour and proof of ID later, he had a gig at an Amazon.com warehouse. The $12.35 an hour will help pay for his machining classes at a nearby technical college.
Paan is among the 100,000-plus people Amazon says it's adding to its workforce during this holiday shopping season, roughly doubling its warehouse head count. Outposts such as the hotel serve as temporary recruiting centers for people willing to spend a few weeks a year moving items from shelves to boxes in grueling shifts. As Amazon's overall business has grown—fourth-quarter revenue is expected to rise 23 percent this year, to $36 billion—so has its reliance on these feeder systems. The company used 80,000 seasonal workers last year, up from 70,000 in 2013 and 50,000 the year before.
Amazon's demand for temps is starting to test the limits of the supply. That means more money for workers and the staffing agencies that technically employ many of them: Amazon is paying more than double what it paid for warehouse temps in 2012, wage data from researcher IbisWorld suggest, while its projected revenue is up 69 percent. Temps' wages have outpaced inflation, increasing 2.6 percent a year in that time. IbisWorld says they'll rise 3.4 percent a year for the next three years.
Amazon will "just have to deal with higher pay rates, which can squeeze profit margins," says Michelle Hovanetz, an IbisWorld analyst. Partly because of uncertain labor expenditures, the company's projected range for its fourth-quarter profit is extremely broad, anywhere from $80 million to $1.3 billion, vs. $214 million last year. Amazon declined to comment.

The heavy lifting for recruiting falls to Amazon contractors such as Integrity Staffing Solutions, which hired Paan and supplies short-term labor for Amazon in at least 15 states. The temp agencies handle background checks, tax filings, and legal issues, including injuries and unemployment claims. "If Amazon is going to do this themselves, they would have to build an entire different infrastructure," says Robert Capo Jr., a former manager for Integrity, based in Newark, Del.
SMX and Kelly Services also send Amazon thousands of seasonal workers each year, but Integrity got in earlier. The company, founded in 1997, landed its first contract with Amazon that year. "We did things others weren't willing to do," Chief Executive Officer Todd Bavol told a local radio station earlier this year. Financial details are scarce, but Bavol told the Philadelphia Business Journal in 2009 that the company's annual revenue was $84 million and would be $300 million by 2014. Integrity declined to comment for this story.
While the other staffing companies' finances are similarly opaque, executives at TrueBlue, which owns SMX, said last year a contract to staff a single Amazon-size warehouse is worth $2 million to $3 million a year. This year some temp agencies have begun handing workers a $500 signing bonus. "Stuff Your Pockets With Cash," reads a Thanksgiving-themed poster advertising jobs with SMX in Newark, Calif.
This industry of middlemen provides huge savings for Amazon and other companies with heavy holiday labor needs, such as United Parcel Service and FedEx. That's because the payroll taxes that businesses cough up for unemployment insurance can range widely depending on how often an employer lays people off. The government doesn't factor in temps, so companies like Integrity take the tax hit, letting Amazon base its rates only on the 90,000 permanent staff at its 70 U.S. warehouses and shipping hubs.
The difference in taxes paid per worker is minuscule, but the total is about $100 million a year for a company Amazon's size, based on an analysis by Bloomberg using unemployment insurance rate ranges in 28 states where Amazon has warehouses. Until it can build robots with the dexterity to efficiently pick items off a shelf, it's worth it to Amazon to keep seasonally hiring and firing through third parties. "They are only using workers exactly when they need them," says Susan Houseman, senior economist with the W.E. Upjohn Institute for Employment Research, a researcher that administers unemployment programs.
Conditions aren't great. Many seasonal workers endlessly circle warehouses as large as several football fields, with handheld scanners directing them to their next item and ticking down the seconds each task should take. The challenging conditions have drawn criticism from labor advocates for years. In 2013 a temp working in an Amazon warehouse in New Jersey was crushed to death in a package-sorting conveyor system.
Temps tend to have fewer labor protections than full-timers, and the problem is growing as they account for 2.1 percent of the U.S. workforce—an all-time high, according to the Department of Labor. Companies like Amazon "are institutionalizing a permanent tier of temporary workers," says Erin Hatton, a sociology professor at the University of Buffalo. Dave Clark, Amazon's senior vice president for operations and customer service, told Bloomberg TV in a Nov. 30 interview that temps are paid market rates and have a chance at full-time jobs.
At the Seattle-Tacoma airport hotel, Integrity's new recruits had varying expectations. A landscaper wanted to supplement his income during the winter. A woman who recently lost her janitorial job said she hoped the company would hire her full time. A father of three, unhappy with his gig as a press operator for a packaging supplier, was looking to climb Amazon's ranks to a management position. Some, hired on the spot, began working the next day, while most of the country was sitting down for Thanksgiving dinner.
The bottom line: Amazon's boom year means a swell in temps, which cuts into profit—though not as much as putting them on staff would.
Before it's here, it's on the Bloomberg Terminal.
LEARN MORE