VW CEO Commits to Keeping Carmaker's Brands in Crisis Aftermath
by , , and
Tips from 100 whistle-blowers didn't yield new scandal fronts

CEO Mueller says he'll protect jobs at VW plants worldwide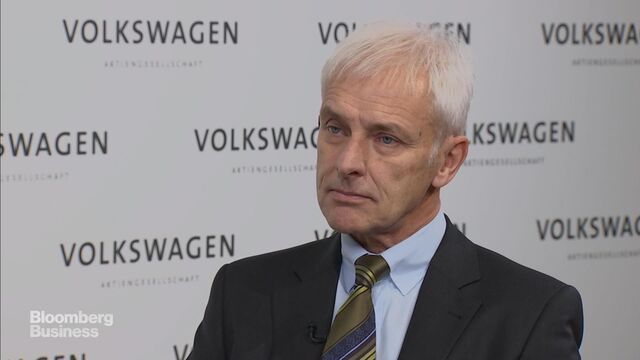 Volkswagen AG Chief Executive Officer Matthias Mueller said he's committed to keeping the company's 12 brands, suggesting the carmaker has the financial means to pull itself out of a nearly three-month-long pollution cheating crisis without selling assets.
Mueller, speaking in his first television interview since the scandal broke in late September, said tips from about 100 whistle-blowers didn't open any new fronts in the investigation. The CEO said he hopes to reach a deal with the U.S. Environmental Protection Agency within weeks and make his first official visit in January to the U.S., where Volkswagen's emissions cheating first emerged.

"There is no reason whatsoever to get rid of these assets," said Mueller, who oversees brands from Ducati motorcycles to Scania heavy trucks and Bugatti supercars. "We are looking forward to the future of VW. We want to make this company more modern, more open."
Volkswagen acknowledged for the first time on Thursday that the seeds of its downfall were sown a decade ago because its diesel cars couldn't pass strict emissions standards in the U.S., where the company has been an also-ran. The cheat devised at the time eventually made its way into some 11 million vehicles. Now Mueller faces the complicated task of wringing savings from a company unaccustomed to austerity, with a powerful workforce defending its privileges and the controlling Porsche-Piech family reluctant to introduce sweeping changes.
Financial Burden
"The urgency to sell brands is just not there," said Frank Schwope, Hanover-based analyst at NordLB, who estimates the financial burden of the scandal at as much as 20 billion euros ($21.9 billion). "Now everything will depend on the sales figures for December, January and February."
The shares fell 1 percent to 130.44 euros at 1:56 p.m. in Frankfurt. Volkswagen has lost about 9 billion euros in market value since the cheating became public on Sept. 18.
Mueller said he'll protect jobs at each of Volkswagen's factories around the world. He left open the option of making adjustments within Volkswagen's sprawling portfolio of 300 model variants. 
Blunder Chain
"Regaining trust is our biggest challenge," Chairman Hans Dieter Poetsch said at a press conference at the headquarters in Wolfsburg, Germany. The issue wasn't a one-time mistake but a chain of blunders involving individual misconduct, weak processes and partial tolerance when it came to breaching rules, he said. "That is the factor that's the most difficult one for us."
The carmaker said it will have future emissions tests independently evaluated. Some 450 experts are reviewing information equivalent to 50 million books.
Volkswagen faces at least 6.7 billion euros in diesel recall costs, not including likely regulatory fines and potential damages from hundreds of lawsuits. The carmaker is also experiencing a backlash from consumers amid the sluggish progress to recall the vehicles. Sales in the U.S. last month tumbled 25 percent.
While the company is nearing regulatory approval for a low-cost fix for some 8.5 million cars in Europe, its proposals are still under review in the U.S., where regulation is more stringent. The cost of buying back affected U.S. vehicles could total as much as $9.4 billion, according to Bloomberg Intelligence.
Welcome Relief
The company got some welcome relief on Wednesday when it all but eliminated one front in the pollution scandal. Its suspicions of illegal discrepancies in the carbon-dioxide emissions of as many as 800,000 vehicles proved unfounded.
Mueller, previously the chief of Volkswagen's Porsche brand, was appointed to succeed former CEO Martin Winterkorn, who stepped down in the aftermath of the scandal.
"It's a bit symbolic, making Mueller available for questions," said Stefan Bratzel, director of the Center of Automotive Management at the University of Applied Sciences in Bergisch Gladbach, Germany. "Mueller and Poetsch are realistic enough not to act prematurely. If the image problems also result in sales problems, cuts to the brands or the workforce may well be necessary."
Before it's here, it's on the Bloomberg Terminal.
LEARN MORE