Swiss National Bank Keeps Record-Low Rate, Says Franc Overvalued
by and
SNB decision in line with forecast of economists in survey

Credit Suisse says SNB 2016 growth outlook is optimistic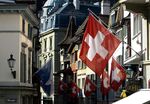 The Swiss National Bank left interest rates at a record low and maintained its pledge to intervene if needed to push back against pressure on the "significantly overvalued" franc.
Announcing its decision on Thursday, the SNB said its measures continue to help weaken the currency, which has been a weight on the economy, holding back growth and pushing down consumer prices. It maintained the rate on sight deposits at minus 0.75 percent, as forecast by 15 of 19 economists in a Bloomberg survey, and kept its target range for three-month Libor unchanged.
Credit Suisse responded by saying SNB President Thomas Jordan is being too optimistic on the outlook and should have cut rates to weaken the franc and boost demand. The SNB sees growth accelerating to 1.5 percent next year from just under 1 percent this year and said that headline Swiss data showing a third-quarter stagnation don't tell the full story.
In its analysis, the central bank also said the global backdrop had deteriorated, but it's "cautiously optimistic." On its key Swiss inflation outlook, it expects consumer prices to fall 0.5 percent next year before rising in 2017, though by less than forecast in September.
"The SNB has missed an opportunity to show its determination to weaken the franc in lowering its deposit rate," said Maxime Botteron, an analyst at Credit Suisse in Zurich. The growth forecast for 2016 will be "very difficult to achieve in the absence of any substantial depreciation," he said.
Jordan defended the SNB's growth forecast, saying it was based on "only a slight depreciation of the Swiss franc."
"So if we hopefully observe -- and that would be justified given the overvaluation -- a significant depreciation of the Swiss franc, that would help the economy and that would boost growth," he said in an interview with Bloomberg Television in Bern.

In the buildup to the meeting, Jordan got some relief when new European Central Bank stimulus this month fell short of market expectations, sending the Swiss currency to a seven-week low versus the euro. That's given him time to wait for a likely Federal Reserve rate increase next week, which could have global spillover effects.
"As long as the euro-franc exchange rate remains in a comfort zone of between 1.07 and 1.10 thanks to interventions, the SNB will probably hold off from additional interest-rate cuts," said Dominik Studer, an analyst at UBS in Zurich.
In London, Bank of England Governor Mark Carney and fellow policy makers are also fretting about the impact of a strong currency, warning last month that the pound's advance in recent years will have persistent impact on inflation. They met this week and will announce their policy decision at noon.
Since dropping its 1.20-per euro cap in January, the SNB has relied on a twin strategy of negative rates and interventions to keep the franc in check. The currency is still up about 10 percent this year, growth stalled in the third quarter, and manufacturers and retailers have reported falling demand. The franc was at 1.08016 per euro as of 2:11 p.m. Zurich time, up 0.3 percent on the day.
While there was no change in SNB policy on Thursday, some analysts said the central bank's commitment to halting any franc surge means action in the future is still possible. The SNB has made unexpected policy announcements in the past, most notably when it dropped its currency cap, and Jordan didn't exclude further rate cuts when asked at a press conference in Bern.
Janwillem Acket at Julius Baer said the central bank "should not be underestimated in its behavior to impose its will."
If there is a surge in haven franc buying, "another rate cut by the SNB could certainly not be excluded in 2016," said Julien Manceaux at ING. "For the time being, the situation certainly does not warrant that and the SNB can limit itself to an active role on the foreign-exchange market."
Before it's here, it's on the Bloomberg Terminal.
LEARN MORE