business
South African Markets Rattled as Zuma Fires Finance Minister
By and
Default premium climbs above junk-rated Russia to 2009-high

Biggest drop in banks in 14 years as bonds plunge most ever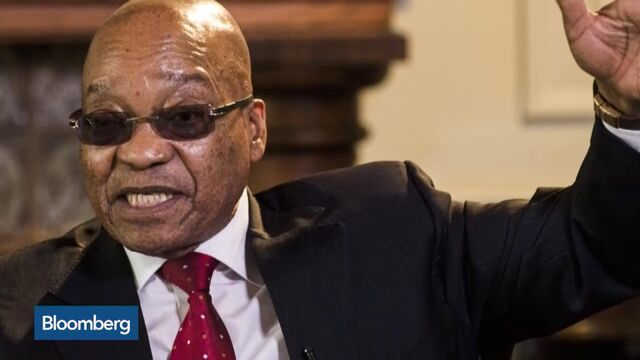 South African markets were thrown into turmoil after President Jacob Zuma fired the finance minister, strengthening his grip on power amid differences over government spending.
The rand weakened for a sixth day in the longest streak of losses since November 2013 and bond prices dropped the most on record, pushing yields to their highest levels since July 2008. The country's bank stocks tumbled the most in more than 14 years, dragging the market into a so-called correction, following the dismissal late on Wednesday of Finance Minister Nhlanhla Nene. The cost of insuring South African debt against default rose to the highest in more than 6 1/2 years.
The demise of Nene, who was pushing the government to contain spending, comes as South Africa's $350 billion economy faces a credit downgrade to junk, the slowest expansion since the 2009 recession and rising debt levels. To add to the uncertainty, Zuma chose as his replacement David van Rooyen, a little-known lawmaker who investors say is unlikely to oppose the president's plans to move forward with proposals to build a nuclear-power industry, bailout the state-owned airline and push other spending before local-government elections next year.
"We see the risk of consistent portfolio outflows as well as an increased risk of more rating downgrades," Barclays Africa Group Ltd. analysts including Peter Worthington, Miyelani Maluleke and Mike Keenan, wrote in an e-mailed note. "Markets are interpreting the cabinet reshuffle as a blow to the institutional credibility of the National Treasury."

The currency weakened as much as 3.3 percent on Thursday and traded at 15.4447 per dollar 9:36 p.m. in Johannesburg, the biggest drop among 31 major and emerging-market currencies tracked by Bloomberg. Yields on rand-denominated debt due December 2026 jumped 105 basis points to 9.87 percent, the highest on a closing basis since July 2008.
On the stock exchange, almost three shares fell for every one that gained on the benchmark equity gauge, with banks, insurers, retailers and property companies weighing the most on the FTSE/JSE Africa All Share Index. The gauge is down more than 10 percent since its previous peak on Nov. 4 peak, known as a correction.
The FTSE/JSE Africa Banks Index dropped 14 percent, the most since October 2001. FirstRand Ltd. declined 15 percent, its biggest one-day decline on record, Barclays Group Africa fell by about the same margin and Standard Bank Group Ltd. plunged about 14 percent. Gold stocks, which incur costs in rand and sell their product in dollars, rallied, with Harmony Gold Mining Co. rising 20 percent, the most since August 2013, and AngloGold Ashanti Ltd. up 12 percent
"Banking stocks are being hit hard because of the massively weaker currency," Bruce Main, a money manager at Ivy Asset Management in Johannesburg, said by phone. "It increases the risk of bad debts rising. The president has done damage to investor confidence. If the rand continues to be pounded by outrageous policy decisions it will lead to lower business confidence, less employment and stagflation."

Five-year credit-default swaps on South African debt rose to the highest premium over similar contracts for junk-rated Russia -- which is tackling a recession, involvement in two conflicts and international sanctions -- since February 2014. The contracts, which investors use to insure against non-payment for the period, climbed 44 basis points to 333, the highest level since April 2009.
"Zuma's timing could not have been worse," Peter Kinsella, the London-based head of emerging-market and economic and foreign-exchange research at Commerzbank AG, said in a note. "Zuma gave the rating agencies the perfect justification for further downgrades and the loss of investment grade status."

Nene was removed from his position after 19 months and ahead of his "deployment to another strategic position," Zuma said in an e-mailed statement on Wednesday, without providing more detail. Van Rooyen has served as a parliamentary member on committees for finance and economic transformation.
On Dec. 4, Fitch Ratings Ltd. cut the country's credit rating to BBB-, one level above non-investment grade, while Standard and Poor's lowered the outlook on its equivalent rating to negative, bringing the nation a step closer to junk status.
"This is a big negative, especially because Nene was seen as someone who was moving in the right direction," Ilke van Zyl, an economist at FirstRand's Johannesburg-based investment banking unit, said by phone. "Because we don't know the new man and we all have to get to know him now, and we are already at a very sensitive point in the projections of our fiscal position, we think this is a negative."
(
Updates rand hit new record low in fifth paragraph.
)
Before it's here, it's on the Bloomberg Terminal.
LEARN MORE