Paris Climate Talks Enter 'Crunch Time' With Divisions Over Deal
by and
Debate on $100 billion aid and how to make pledges stick

Developing nations pressed to reveal details about emissions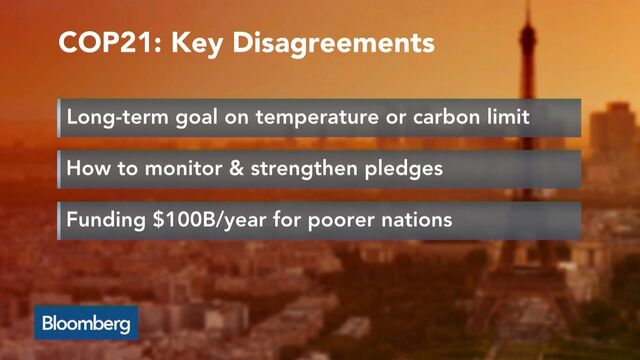 Envoys at United Nations climate talks are negotiating into Saturday, a day beyond schedule, as India warned of divisions that may thwart a new deal to spark the deeper cuts in fossil-fuel pollution needed to rein in global warming.
The delegates from 195 countries are working to narrow differences on the level of detail that poorer nations should be required to make about their emissions. They're also discussing what their long-term goal should be and how to expand climate aid beyond the $100 billion a year rich nations promised to deliver by 2020.

"Unless the developed world shows flexibility and a spirit of accommodation, it won't be" a success, Indian Environment Minister Prakash Javadekar said Friday in an interview in Paris. "It's a 50:50 case right now."
The ambition is to forge the first truly global deal to rein in carbon pollution, arresting an increase in temperatures that this year are set to be the highest on record. Limits on fossil-fuel emissions would bring upheaval to energy policies everywhere as governments tilt their economies toward renewables and away from coal, oil and gas.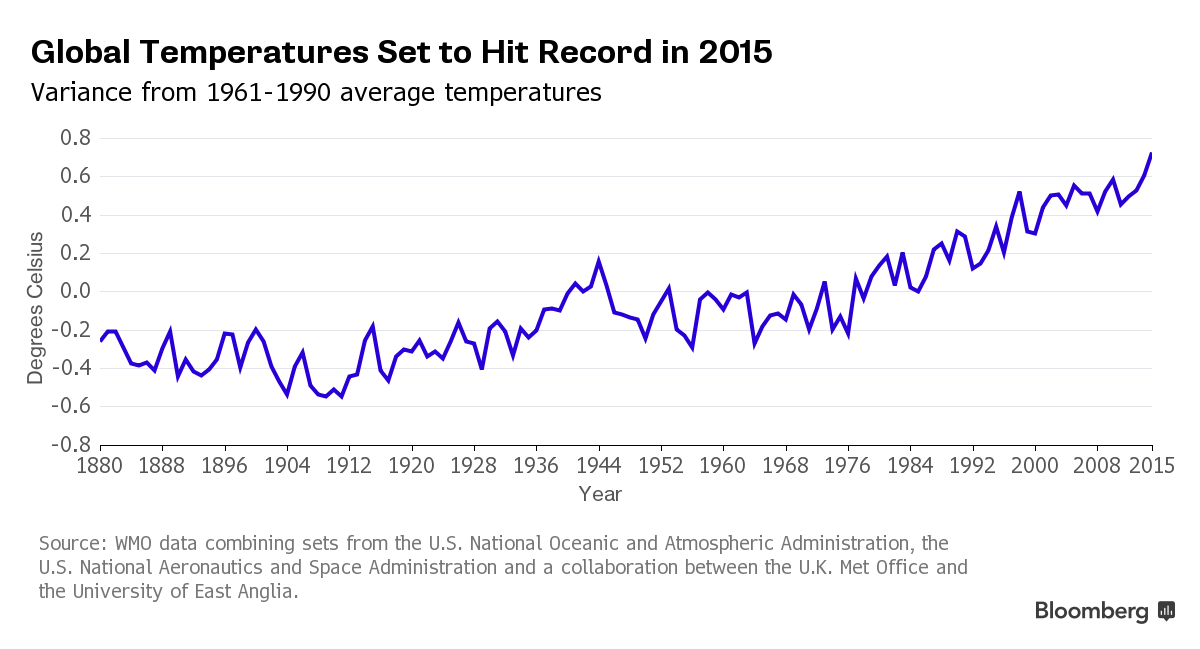 French Foreign Minister Laurent Fabius, who is presiding over the talks, published a draft text that narrowed the gaps between nations on Thursday night and confirmed that the meeting will overrun because another version of the accord won't be ready on Friday.
"I will present the next not on Friday evening as I had previously thought but on Saturday in the morning," Fabius said on Friday morning after meeting through the night, according to French television BFMTV.
"The new draft text positions the deal towards the more ambitious end of the spectrum," said Abyd Karmali, managing director of climate finance at Bank of America Merrill Lynch. "There is still some prospect that it could be watered down in a few places, but this would still represent a major diplomatic accomplishment."
Texts now in circulation are "bolder but not yet there," Miguel Arias Canete, the European Union climate commissioner, said by Twitter on Friday, adding that the EU and its allies are "pushing for greater ambition."
A flurry of diplomatic contacts was aimed at wrapping up the deal. U.S. President Barack Obama spoke late on Thursday by phone with his Chinese counterpart Xi Jinping, after calls earlier in the week with the leaders of France, Brazil and India, according to the State Department. U.S. Secretary of State John Kerry is in Paris and met UN Secretary General Ban Ki-Moon, who in turn sat down with envoys from Singapore, South Africa and India.
Brazil today joined the so-called "High Ambition Coalition," a group of more than 100 countries led by the European Union and endorsed by the U.S., African, Pacific and Caribbean nations, that is seeking an effective deal.
The document contained 50 pairs of square brackets indicating specific areas where language isn't agreed, down from 367 on Wednesday and 940 a week ago. There are now just six instances where an entire clause has multiple options.
"Countries have been circling around the landing zones for months as if they don't see them," said Elliot Diringer, executive vice president of the Center for Climate and Energy Solutions. They "ought to be able to find their way from here."
Work Plan
Fabius told envoys they should negotiate privately to reach convergence. The envoys are homing in on a deal that would take effect from 2020, capping the global temperature rise since pre-industrial times to 2 degrees Celsius (3.6 degrees Fahrenheit). It is likely to acknowledge the need to strive for 1.5 degrees, a key demand of the countries most vulnerable to warming, including island states imperiled by rising seas.

Some 185 nations have already submitted voluntary national "contributions" rather than the internationally legally binding targets that were central to the 1997 Kyoto Protocol. The previous treaty bound only rich countries to cut carbon emissions. Envoys are debating when to review those pledges, which are mostly for 2030, but include some for 2025. The latest text would see countries "confirm or update" their pledges by 2020, with a "global stock-take" of efforts held in 2023.
Aside from the temperature goal, envoys are trying to work out another way to frame the long-term aim of their efforts. That's a key demand of companies which must help deliver the required emissions cuts.
Other issues up for debate include whether to quantify financial aid from developed to developing world. The rich nations pledged in 2009 to deliver $100 billion a year of aid to poorer ones by 2020. There are also questions about how a "Loss and Damage" mechanism that would help the least developed countries deal with the consequences of rising seas and stronger storms. Rich countries want to avoid any notion of liability or of compensation.

There are also differences over how much information countries must disclose about their efforts. India's Javadekar on Dec. 9 said he favored "two different systems of transparency" one for the rich nations and another for all the rest.
Todd Stern, the U.S. climate envoy, said he can't accept "a bifurcated system." Options resembling both those positions remain in the latest text. China wants to maintain differentiation.
"The issue of differentiation would be ath the core of our concern for a Paris agreement," Liu Zhenmin, deputy head of the China's delegation and vice minister of the Ministry of Foreign Affairs, said at a briefing.
"The heart of the deal is emissions monitoring," Paul Bledsoe, a former White House climate adviser during Bill Clinton's U.S. presidency, said in an interview in Paris. "It will be the last issue decided."
Before it's here, it's on the Bloomberg Terminal.
LEARN MORE