Lester Pollack, LBO Pioneer From Lazard, Dies at 82
Stephen Miller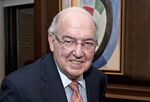 Lester Pollack, a former Lazard Freres & Co. managing director who founded private equity firm Centre Partners and helped start early leveraged-buyout fund Odyssey Partners, has died. He was 82.
He died Dec. 9 at his Manhattan apartment, his daughter, Wendy Issacs, said in a telephone interview. The cause was complications from Parkinson's disease.
"A brilliant, avuncular lawyer," according to a 1991 New York magazine article, Pollack started Centre Partners, based in Manhattan, in 1986. From 1986 to 1998, he also was a managing director at Lazard Freres.
Pollack was a founding general partner at Odyssey Partners from 1982 to 1986, according to a profile on his firm's website. He was a general partner and vice president of New York-based Oppenheimer & Co. and vice chairman and co-chief operating officer of United Brands from 1979 to 1981.
He worked at Loews Corp. from 1965 to 1979, serving as executive vice president and board member. Pollack became known as "the third Tisch brother," a reference to Laurence and Robert Tisch, who ran the company.
Centre Partners, with offices in New York and Los Angeles, is a middle-market private equity firm specializing in investments in North American-based businesses primarily in the consumer and health-care industries. Since its inception, the firm has invested more than $2 billion in about 70 companies, including fast-food restaurant chain Captain D's Holding Corp.; Taylor Precision Products Inc., a maker of measurement devices such as scales; and Manor House Retirement Centers Inc.
Lester Pollack was born Aug. 14, 1933, in Brooklyn, New York. His father, Benjamin Pollack, worked in the garment industry and his mother, the former Shirley Fine, was a home maker.
NYU Law
In 1955, he received a bachelor's degree from Brooklyn College in New York and two years later graduated from New York University School of Law.
After leaving NYU, Pollack joined Booth, Lipton & Lipton, a New York law firm, where he became a partner.
At Loews, where he was a board member, he worked as general counsel for the holding company, which now owns hotels, energy-related units and an insurer. He was actively involved in the company's acquisition activities, according to a 1981 Wall Street Journal story.
Pollack often acted as an intermediary between Laurence and Robert Tisch, according the New York magazine story. He "filled in the need for communications between the two brothers," the publication reported.
Trans World
While at Odyssey, Pollack and his partners used their stake in Trans World Corp. to push for a breakup of the holding company that owned Trans World Airlines, Hilton International Corp. and Century 21, a franchised chain of real estate offices. In 1984, the conglomerate spun off TWA as a separate company.
Throughout his career, Pollack remained involved with NYU, where for 10 years he served as chairman of the law school's board of trustees. His support helped create the Pollack Center for Law & Business, a joint venture between the law school and NYU's Stern School of Business. Pollack's philanthropic activities included serving as chairman of the Conference of Presidents of Major American Jewish Organizations.
In addition to his daughter, survivors include his wife, Geri Pollack; a son Bruce Pollack, a managing partner at his father's firm; five grandchildren; and a brother, Herbert Pollack.
(Corrects spelling of Loews in the fifth paragraph of story published Dec. 10. Earlier versions of this story were corrected to change the year of birth and remove a reference to the Tisch brothers' relationship.)
Related ticker: 790169Z US (Centre Partners)
Before it's here, it's on the Bloomberg Terminal.
LEARN MORE