Joplin Porsche, Fangio $32 Million Ferrari Arrive at Sotheby's
by
`Driven by Disruption' auction in N.Y. stars 31 rare vehicles

A 1962 Aston Martin may set new record for a British car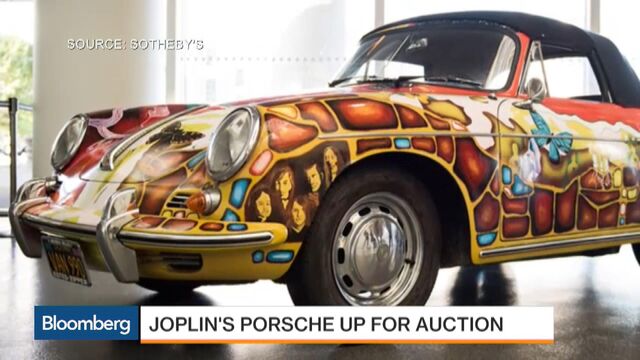 A red Ferrari, parked inside Sotheby's headquarters with a white gift bow on its shiny roof, may fetch as much as $3.5 million, a perfect present for the hard-to-please billionaire on your list.

Timed to coincide with the year-end holiday season and Sotheby's sales of jewelry and watches this week, the "Driven by Disruption" auction is expected to tally more than $90 million on Thursday. Among the 31 offered vehicles, there's a psychedelic Porsche once driven daily by rocker Janis Joplin and a Ferrari raced by many of the world's most celebrated drivers, estimated at as much as $32 million.
"The timing, presentation, cross marketing were all part of the rationale," said Alain Squindo, vice president of the RM Sotheby's unit.
He said he expects the New York salesroom to be full, sitting 700, with bidding possible from the Middle East, East Asia and Western Europe, regions with thriving demand for trophy automobiles.
"It's a passion-driven business," Squindo said. "I can't see any correlation between the rare-car market and the volatility in the financial markets."
Top Lot

The top lot by estimate is a 1956 Ferrari 290 MM, pegged at $28 million to $32 million. Custom designed for Juan Manuel Fangio, one of the greatest Formula One racing drivers ever, to compete in the Mille Miglia, a 1,000-mile race through Italy. It has been raced by other famous drivers, including Phil Hill and Wolfgang von Trips. Four models were made.
The auction includes nine Ferraris. The current car auction record belongs to a Ferrari 250 GTO Berlinetta that sold for $38.1 million in 2014.
The lovers of patina can admire the 1955 Ferrari 500 Mondial, estimated at $5 million to $6.5 million. The blue race car still has its original major mechanical components, including chassis, engine and gearbox as well as its original color, according to the catalog.

Joplin's "History of the Universe" Porsche 356 Cabriolet is estimated at $400,000 to $600,000. She bought the 4-year-old car in 1968 for $3,500 and drove it daily, often accompanied by her dog, according to the catalog. The surface is hand-painted with California landscapes, Zodiac signs, smoke and portraits of the Big Brother and the Holding Company band members. Since 1995, the car has been on loan at the Rock and Roll Hall of Fame and Museum in Cleveland.
A green 1962 Aston Martin DB4GT Zagato, one of 19 made, is estimated at $15 million to $17 million. If sold within this range, it would set a record for a British car.

The 2003 Ferrari Enzo displayed in the lobby is estimated at $3 million to $3.5 million. It was bought last year by U.S. boxer Floyd Mayweather Jr.
A children's version of a Ferrari 250 Testa Rossa, half the size of the original race car, is estimated at $50,000 to $75,000. Watch the little fingers: the car's gas-powered engine starts with the flick of a switch.
Before it's here, it's on the Bloomberg Terminal.
LEARN MORE