Honda's $4.5 Million HondaJet Cleared by U.S. Agency for Takeoff
by
Automaker's aircraft unit prepares for deliveries by end-2015

Production is ramping up with 25 HondaJets in final assembly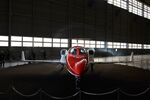 Honda Motor Co. said the U.S. certified its $4.5 million business jet, clearing the way for deliveries to begin by the end of the year.
The U.S. Federal Aviation Administration presented Honda with type certification for its seven-seat HondaJet on Tuesday, the automaker's aircraft unit said in a statement. The company has 25 planes in final assembly in North Carolina and is preparing for deliveries and pilot training.
With leather seats for as many as seven passengers, the company bills HondaJet as the fastest, quietest and most fuel-efficient jet in its class. The plane made its maiden Japanese flight in April after three decades in development. Its jet engines are located on top of the wings, increasing fuel efficiency by about 15 percent and freeing up about 20 percent more cabin space than in comparable aircraft, according to the company.
Honda Aircraft President Michimasa Fujino has called the jet a "flying sports car" or "flying Acura," an indication of the company's strategy to position planes and Formula One engines as sources of engineering credibility that lift the reputation of its vehicles in dealer showrooms. Fujino has said the company already has more than 100 orders for the jet.
The FAA certification, which signifies the airworthiness of a plane's manufacturing design, is the second milestone in as many months for aircraft from Japan. Mitsubishi Aircraft Corp.'s Mitsubishi Regional Jet, the first passenger plane developed in Japan in more than half a century, made its debut flight in November. Mitsubishi Heavy Industries Ltd. is also developing a military stealth jet, slated to make its maiden flight in the first quarter of next year.
Before it's here, it's on the Bloomberg Terminal.
LEARN MORE