Geraldo Sues! Locked Out of a Job and His Studio, Host Says
by and
Rivera claims radio chain reneged on $600,000 employment pact

'It is not about the money,' he said. It's the 'disrespect.'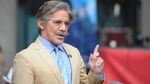 Geraldo Rivera sued Cumulus Media Inc., claiming that the national radio station owner backed out of a $600,000 deal for him to host a daily news talk-radio show in New York -- and locked him out of his studio, for good measure.
The prize-winning investigative reporter and host, whose walrus mustache and mop of hair have been a fixture on the TV screens of two generations of Americans, filed the lawsuit Wednesday in state court in New York. 
Rivera contends in the suit that Cumulus's new owners locked him out of his studio and office at the radio station chain's WABC-AM after refusing to honor a one-year agreement for 2016. He says his agent negotiated the deal with Cumulus's former owners, who lost control of the company in September, and that the new owners have wrongfully refused to honor it.
"We offered Geraldo Rivera a new contract commensurate with the value of his show, and our offer was repeatedly rejected," Davidson Goldin, a Cumulus spokesman, said in an e-mailed statement. Goldin runs a New York-based public relations firm.
'Unforgivable Disrespect'
The lawsuit asserts that in an e-mail to Rivera on September 30, John Dickey, executive vice president at Cumulus at the time, acknowledged the employment agreement, writing: "Thanks Geraldo. I admire your work and your loyalty. Glad you will be covering the election on 77 WABC next year..."
"It is not about the money," Rivera said in a November Facebook posting, according to the New York Post newspaper. "Because of their unforgivable disrespect, I will fight them and they will end up costing their battered company far more in damages than they expect to save in my salary."
Rivera, 72, has made a brand of his name, face and outsize personality, much as Donald Trump has. He hosted the TV talk show "Geraldo" from 1987 to 1998 and today helms the Fox News Channel news magazine "Geraldo at Large."
Friendly Fire
Winner of the Emmy and Peabody awards, the larger-than-life journalist faced criticism over a first-hand story describing a 2001 friendly-fire incident during U.S. military operations in Afghanistan after it was reported that he was hundreds of miles away from the scene of the attack.
A more recent brush with death was all too real. The suit comes a month after Rivera rushed to Paris to comfort his 21-year-old daughter, Simone Rivera, who had attended the soccer game where assailants staged suicide bombings outside the stadium as part of the coordinated terrorist attack on the city on Nov. 13.
The case is Rivera v. Cumulus Media Inc., Case No. 654121/2015, New York State Supreme Court (Manhattan).
(Updates with company comment in fourth paragraph.)
Before it's here, it's on the Bloomberg Terminal.
LEARN MORE