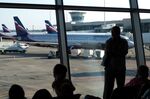 Russians looking to find some warm weather this holiday season are running into some tricky roadblocks. In November the government imposed strict new bans on travel to Egypt and Turkey, two of the most popular vacation destinations for Russians, in response to the terrorist bombing of an airliner over Sinai and the shooting down of a military jet near the Turkish border with Syria. The government has also restricted the foreign travel of citizens with overdue loans and unpaid bills.
A record 1.4 million Russians have been grounded this year through September under a law that bans deadbeats from leaving the country, according to Russia's Federal Bailiff Service. About 600,000 are now on the no-fly list, says the agency, which enforces the ban. "The growth rate in overdue debt has been huge, up 40 percent this year, and it will get worse before it gets better," says Elena Dokuchaeva, chairman of Sequoia Credit Consolidation, one of Russia's largest debt collection agencies, which is partially owned by Goldman Sachs.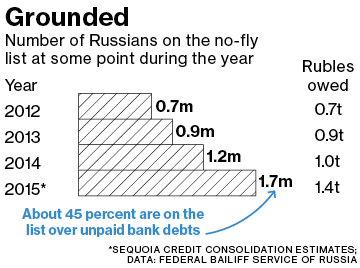 A decade of high oil prices fueled a consumption boom among Russia's middle class, as people splurged on pricey vacations, TVs, and cars, all on credit. From 2010 to 2014, Russia's consumer credit market grew at a double-digit rate, according to the country's biggest lender, Sberbank. Along the way, conspicuous consumption helped turn Moscow from a consumer backwater into a city with an iPhone usage rate on par with New York's.
Russia's credit party began to wind down around 2013, as its economy slowed. Over the past year, the drop in oil prices and Western sanctions, imposed to punish Russia for its incursions into Ukraine, have combined to hammer both lenders and borrowers. The sanctions cut off Russian banks from foreign capital markets, causing them to tighten their lending standards, which has trickled down through the economy. "The economic crisis has made good-faith borrowers lose income or end up unemployed," says Oliver Hughes, chief executive officer of Tinkoff Bank, one of Russia's largest issuers of credit cards.
Now with the economy in recession, many Russian consumers are paying back loans with interest rates as high as 45 percent, according to Sequoia. Last year, 1 in 8 Russian debtors had at least three outstanding loans, according to the National Bureau of Credit Histories.
Delinquency rates are soaring as double-digit inflation erodes Russians' disposable income. Desperate for cash, some Russians are turning to loosely regulated microfinance organizations that charge annual rates as high as 880 percent.
The retrenchment is reflected in sales of everything from washing machines to international travel. Retail sales have plunged, with the October numbers showing the biggest drop in 20 years. Rising default rates have driven some banks to the edge. Vodka magnate Roustam Tariko, who in better times was known for flying in a private jet accompanied by Miss Russia, pushed bondholders in October to restructure $550 million in debt to save his Russian Standard Bank, which focuses on consumer loans and credit cards.
It's a better deal than some other consumer lenders got. Russia's central bank in November shut down Svyaznoy Bank, the lending arm of one of Russia's largest cell phone retailers, when it ran short of capital after aggressively expanding consumer loans before the crisis. Other banks are getting creative to keep the payments flowing. "We've hired a few people for our cloud call center" from among customers who are behind on their loans, says Hughes of Tinkoff Bank.
Debtors are often confronted by collection agencies that some consumer activists accuse of resorting to aggressive measures. Igor Kostikov, chairman of Finpotrebsoyuz, a nonprofit for consumers in debt, says "tactics can include calling at all hours of the day and night, approaching delinquent debtors via their relatives or workplace," verbal harassment, and threats of violence.
Russia's credit bureau says the number of people with three or more outstanding loans—a red flag for banks—has fallen 37 percent since the start of the year. The bad news? There are still 3.1 million Russians in the category most at risk to fall into arrears, at which point they too could lose their right to leave the country.
The bottom line: Last year, 1 in 8 Russian debtors had three or more outstanding loans, some with interest rates as high as 45 percent.
Before it's here, it's on the Bloomberg Terminal.
LEARN MORE