Photographer: Larry W. Smith/Bloomberg
The merger talks between Dow Chemical and DuPont leaked on Dec. 8, aren't just about putting together a $120 billion deal, an industry record. It's about more than possibly creating the world's largest seed and pesticide company and the No. 2 chemical company, after Germany's BASF. The merger also says a lot about the power of corporate activists and the growing pressure they and other investors are putting on corporations to streamline their businesses.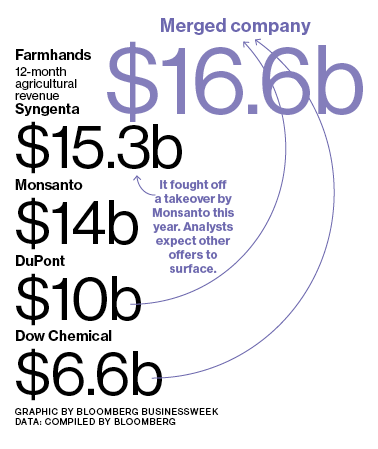 The talks follow a tumultuous period for both companies. DuPont's chief executive officer, Ellen Kullman, stepped down in October, five months after winning a proxy battle waged by activist investor Trian Fund Management. At Dow, CEO Andrew Liveris, who led the company's recovery from near-insolvency during the financial crisis, has also faced pressure from an activist shareholder—Dan Loeb's Third Point.
The behemoth that emerges would likely break into three businesses—agriculture, specialty chemicals, and commodity chemicals—to create more focused companies, according to a person with knowledge of the matter who asked not to be identified because the information is private. "This is really what the activist investors of both companies ultimately wanted, which is to break up these companies into the component parts that have superior growth opportunities and those that are more commodity, cyclical type of businesses," says James Sheehan, an analyst at SunTrust Robinson Humphrey.
Liveris has aimed to reshape Dow into a producer of higher-margin products by selling off volatile, commodity-like businesses; it's consistently beaten analysts' earnings estimates since the start of 2014. Yet Third Point last year campaigned against Dow for failing to meet financial targets and called for a breakup. Dow let Loeb nominate two members to the board, averting a proxy fight a year ago, and both sides agreed to a truce set to expire in mid-December—less than a week after the merger talks came to light.
The build-and-breakup model reportedly being studied by Dow and DuPont is increasingly popular. General Electric this fall spent $10 billion buying Alstom's gas turbine business. At the same time it spun off its financial unit, GE Capital, and tried in vain to sell its home appliances division to Electrolux. Lockheed Martin said in July it would buy the helicopter maker Sikorsky from United Technologies and then consider spinning off or selling its own information systems unit. And Pfizer and Allergan's recently announced $160 billion marriage would involve dividing new drugs and older, less profitable ones into separate businesses.
"It's not about getting bigger, it's about becoming more focused," Marijn Dekkers, CEO of drugmaker Bayer, said on Dec. 9. "That is a trend that we have been seeing for a long time. Companies are saying that it's difficult to be positioned so broadly."
Whether regulators will allow reshufflings to occur is uncertain. Bloomberg Intelligence analyst Jason Miner says the focus of the antitrust review may be on the agricultural businesses. Analysts at Helvea-Baader Bank estimate the combined Dow-DuPont would sell about 16 percent of the world's pesticides and be the third-largest supplier of crop chemicals. Even so, the merged company will still have large rivals such as Syngenta, Monsanto, and Bayer, Miner says. "It's much more complementary than competitive," he says. "It seems a lot more viable than you would think from the headline—major U.S. chemical company buys major U.S. chemical company."
—With David McLaughlin, David Fickling, Alice Baghdjian, and Sheenagh Matthews
The bottom line: If completed, a combined Dow Chemical and DuPont would have 16 percent of the world's pesticide business.
Before it's here, it's on the Bloomberg Terminal.
LEARN MORE