Oil Giants Pledge Even Deeper Spending Cuts Amid Prolonged Slump
by and
Chevron, ConocoPhillips focus on quicker, lower-risk projects

Petrobras CEO sees asset sales as key to lowering debt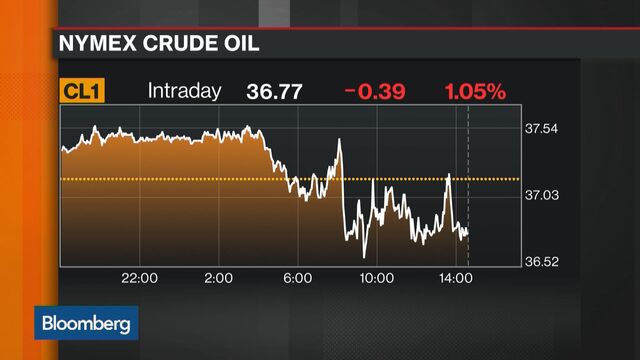 Some of the biggest oil explorers in the Western Hemisphere are cutting budgets yet again to conserve cash as a plunge in energy markets shows no signs of abating.
ConocoPhillips will reduce capital spending by 25 percent next year to $7.7 billion to protect the highest dividend yield among major U.S. oil producers, the Houston-based company said Thursday. That came a day after Chevron Corp. disclosed a 2016 budget 24 percent smaller than this year's plan. Together, the cuts by both companies totaled $10.9 billion, enough to rent 10 deepwater drilling rigs every day for more than half a decade.
Petroleo Brasileiro SA, battered by a corruption probe and the market collapse that have led the oil industry's most ambitious investment plan to unravel, probably will scale back its $119 billion, five-year capital budget as soon as next month, Chief Executive Officer Aldemir Bendine said in an interview. Petrobras, as the Brazilian state-controlled company is known, will start 2016 with $20 billion in cash, he said. The company currently has a $128 billion debt load.
Oil producers, rig owners, fracking companies and even steelmakers have been stung by the worst oil-market collapse in a generation. A worldwide glut of crude from the Middle East, Russia and U.S. shale fields has driven down oil prices since mid-2014, shrinking cash flow across the industry and spurring job cuts and project cancellations. Industrywide, cuts next year may reach $200 billion, said Eni SpA Chief Executive Officer Claudio Descalzi.
Budget reductions "can create in the mid-term an imbalance between supply and demand," Descalzi said in a Bloomberg Television interview.
Outside U.S.
Chevron, the second-largest U.S. oil producer, is focusing on oil and gas developments that will deliver the highest profits in the near-term while holding off on more ambitious projects that take several years to begin generating cash. About 70 percent of its $26.6 billion 2016 spending plan will occur outside the U.S., the San Ramon, California-based company said in a statement on Wednesday.
Chevron, which has lost 20 percent of its value this year, is expected to post its lowest annual profit in more than a decade this year after a 17-month collapse in commodity markets that stripped crude of almost two-thirds of its value.
ConocoPhillips, the biggest U.S, oil explorer that doesn't also own refineries, said more than half its $7.7 billion in 2016 expenditures will be spent in U.S. oil fields, predominantly shale formations in Texas and North Dakota, as well as the Gulf of Mexico and Alaska. ConocoPhillips also plans to allocate drilling capital to Malaysia, China, the North Sea and Canada.
The company's highest priority for its cash is the dividend, Chairman and Chief Executive Officer Ryan Lance said during a conference call with analysts and investors on Thursday. ConocoPhillips's 6.1 percent dividend yield is the highest among the 10 largest U.S. crude explorers, including those of industry giants Exxon Mobil Corp. and Chevron.
ConocoPhillips has fallen 29 percent this year. The Houston-based company posted its steepest quarterly loss since 2008 in the period that ended Sept. 30.
Asset Sales
ConocoPhillips expects to sell $1.7 billion in assets by the end of March, mostly gas fields, according to the statement. Those will be in addition to $600 million in sales that closed during the first nine months of this year.
Petrobras also is resorting to asset sales to raise cash, Bendine said. One business that is attracting potential investors is BR Distribuidora, a fuel distribution unit with more than 7,000 filling stations, he said in the interview from one of the company's office towers in downtown Rio de Janeiro, where it's based.
Petrobras has about 12 interested parties and plans to sell as much as 35 percent of the business to form a joint venture. At a later date Petrobras could list the company to raise more cash, Bendine said.
Investment in U.S. oil production will be flat or lower next year, and diminishing output in the country in 2015 and 2016 will help re-balance the global market, Lance told reporters Monday at a conference in Doha.
Before it's here, it's on the Bloomberg Terminal.
LEARN MORE