Colorado Startup Prieto Works on a Superbattery
The foam battery riding to your phone's rescue.
By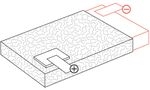 Innovator: Amy Prieto
Age: 41
Chief executive officer of nine-employee Prieto Battery in Fort Collins, Colo.
Form and function
Lithium ion batteries get a bit more efficient every year, but they aren't keeping pace with the demands of mobile devices, electric cars, or the grid. More flexible designs can be at least twice as powerful as current ones.

Design
Normal lithium batteries contain closely stacked, 2D sheets of cells. Prieto's models (pictured) spread electrons throughout a 3D area made of a highly conductive copper foam.
Origin
Prieto, who has a Ph.D. in inorganic chemistry from the University of California at Berkeley, developed her design at Colorado State and formed her company in 2009.
Uses
The company says it'll be able to make batteries big enough to store grid-scale solar energy and small enough to power a Fitbit.
Output
The copper foam maximizes the surface area of the circuit, increasing the battery's storage capacity, efficiency, and power and allowing it to be made in a wide variety of shapes.

Stats
The company is working on a battery that can be charged in as little as five minutes and run at high power for as long as 10 hours.
Funding
Prieto has received an undisclosed amount from Intel's venture capital arm, and it's trying to raise an additional $3 million.
Next Steps
"Battery life continues to be a significant pain point for mobile users," and Prieto's model is a step forward, says Wendell Brooks, president of Intel Capital. Prieto says it plans to bring the batteries to market within two years and is in talks with manufacturers. The company's also licensing its copper-foam-based technology to other companies.
Before it's here, it's on the Bloomberg Terminal.
LEARN MORE