Fashion
Can Jos. A. Bank Really Survive Without Excessive Discounts?
The cheap-suit seller is getting obliterated, and it's taking down new owner Men's Wearhouse with it.
by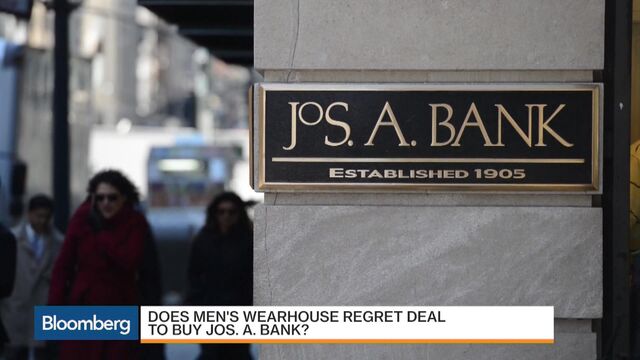 When Men's Wearhouse acquired rival Jos. A. Bank in 2014, executives knew they had a problem in their new brand's "Buy a suit, get three free" promotions. Just how big of a problem appears to have caught Men's Wearhouse completely off guard. After the company scaled back the promotions it deemed unsustainable in the past year, sales at Jos. A. Bank have tanked. Comparable-store sales are down 35.1 percent for the quarter to date, and Men's Wearhouse shares fell as much as 27 percent, to $13.55, on Thursday.
"What we did not know then, but do now, was just how toxic some of the promotions were," Chief Executive Officer Doug Ewert said on a conference call with analysts this morning. 
The choice now facing Men's Wearhouse is to either keep pushing to align Jos. A. Bank with its parent company's model—a more traditional retailer that still offers discounts—or accept that Jos. A. Bank is too associated with the massive multipurchase promotions and that shoppers don't want anything else from the brand. While the huge discounts, which at times reached "Buy one suit, get seven free," have been completely eradicated, this week Jos. A. Bank began testing "Buy one, get two free" to get customers back into its stores. Over the past year, it's also tried single-item discounts that didn't require a mass purchase. "There is not much that's off the table," said Ewert.
Neil Saunders, CEO of retail research firm Conlumino, wrote in a note to clients that the strategy to dial back Jos. A. Bank's promotions is logical yet may be ill-fated. "As desirable as the change might be, shifting an entrenched business model is like trying to wean an addict off their choice of temptation: possible, but rarely without much pain and heartache," Saunders wrote.
Plenty of retailers have fallen into the same trap when consumers began associating their brand with discounts and promotions. J.C. Penney saw sales plummet when it eliminated coupons, and executives later admitted they'd underestimated customers' zeal for discounted items. Coach watched its brand deteriorate as it increasingly discounted merchandise with outlet stores, and is now trying to sell more full-price goods and regain its luster as an affordable luxury label. Jos. A. Bank, however, is a much more extreme case. Few brands have discounted as heavily as the suit store once did.
Yet as Jos. A. Bank craters, Men's Wearhouse's other brands are chugging along just fine, leading some to wonder if the turnaround is even worth the effort. Comparable-store sales at these brands, which include the namesake label, Moores, and K&G, are up 5.5 percent so far this quarter. The Men's Wearhouse brand has had only one negative quarter in the past four years. "The shame of all this is that the acquisition was, in our view, largely unnecessary," wrote Saunders.
When questioned by an analyst on whether Men's Wearhouse would consider jettisoning Jos. A. Bank or finding another way to bail on its new business, Ewert remained stalwart in his defense of the acquisition.
"We're not anywhere near that," he said. "This is a core brand for us. It attracts a different customer than we see in any of our brands. This company is in our sweet spot from a strategic standpoint, and we're going to turn this around."
Before it's here, it's on the Bloomberg Terminal.
LEARN MORE