Photographer: Matthew Lloyd/Bloomberg
Cameron Delays Heathrow Decision Until 2016, Sparking Anger
by and
Announcement put back until after London Mayoral election

Business groups attack `gutless' government over delay
David Cameron again delayed the decision he has been putting off for more than three years: whether to allow another runway at Heathrow Airport, and in so doing break a promise he made in 2010.
The U.K. prime minister swerved the decision in 2012 by asking Howard Davies to investigate the options for expanding airport capacity in southeast England, and ordering him not to report back until after the 2015 general election. Davies recommended expanding Heathrow to the west of London.
Cameron, who had pledged a firm decision by year-end, announced late Thursday that nothing will be decided until after another election -- the May 2016 contest for London Mayor.
The reason given for further months of uncertainty was the need for more research into the environmental impacts of expansion -- something Davies's Airports Commission dealt with in its report. The move was attacked by industry groups and Willie Walsh, chief executive officer of International Consolidated Airlines Group, which runs British Airways.
"To further delay a decision shows what we have repeatedly said -- that party politics takes precedence over what is best for the economy," Walsh said in an e-mailed statement.
Government Defense
The statement announcing the delay said that the further work would be done "quickly" and completed "over the summer." Transport Secretary Patrick McLoughlin qualified that target on Friday morning by adding a "hopefully" in an interview with BBC Radio. He denied the delay was related to the mayoral election.
"We have known for a very long time when the mayoral elections were going to be," he said. "If we deliberately wanted to make this after the mayoral election, we'd have set the timetable for another 12 months." He said progress was being made, as the government accepted the case for more aviation capacity. He also insisted both Heathrow and Gatwick Airport, to the south of London, remain options.
A decision to expand Heathrow before the mayoral contest would have been a blight on Conservative candidate Zac Goldsmith's campaign.
'Real Alternatives'
"This is exactly the right decision," Goldsmith said of the delay. "Environmental considerations are paramount. This decision effectively moves Heathrow off the agenda and allows us to focus on the real alternatives for London."
Goldsmith has pledged to resign as a lawmaker for Richmond Park, under the Heathrow flightpath, if the airport is expanded, and Cameron's own reputation is also at stake. Before becoming prime minister, he gave a "no ifs, no buts" promise that there wouldn't be a third runway at Heathrow, Europe's biggest hub, and sponsored a tree in a protest orchard planted by Greenpeace at the site.
Cameron has had to weigh the competing claims of business groups and members of Parliament from outside the capital, who are pressing for extra capacity at Heathrow, and lawmakers from his Conservative Party representing districts west of London, who were elected on a platform of opposing the airport's expansion. International Development Secretary Justine Greening, who represents Putney, and London Mayor Boris Johnson, who holds the seat of Uxbridge, have joined Goldsmith as vocal critics of the plans.
Johnson Proposal
Johnson said in a statement the obstacles to expanding Heathrow are "insurmountable" and urged the government to look again at his proposal for a new four-runway hub to the east of the capital.
"To get to that position we need the government definitively to rule out Heathrow expansion," he said in a statement. " I believe that today's announcement makes that much more likely."
British Chambers of Commerce Director General John Longworth described the delay as "gutless" and Confederation of British Industry Director General Carolyn Fairbairn said it was "deeply disappointing." Simon Walker, director general of the Institute of Directors, said business leaders "will be tearing their hair out" at the news.
"We have to ask now, what was the point of the commission if the government still fails to act," he said. "At this stage, IoD members care much more about a decision being made than whether the new runway is built at Heathrow or Gatwick."
Heathrow, Gatwick
"I am confident we can meet tough environmental standards," Heathrow Airport Chief Executive Officer John Holland-Kaye said in a statement. An expanded Heathrow would link the U.K. to 40 new long-haul destinations such as Osaka, Japan and Panama city, the airport said, adding that it would work with the government to deliver hub capacity.
Former Labour Party cabinet minister Andrew Adonis, chair of the National Infrastructure Commission and an outspoken advocate for expanding Heathrow, said jobs and growth will be at risk if the government delays the decision beyond next year.
For Gatwick, CEO Stewart Wingate said the delay marked a "defining moment" in the debate. "Expansion at Gatwick would give the country the economic benefit it needs at a dramatically lower environmental cost," he said.
Watch Next: Heathrow CEO Says Expanding Airport Good for the U.K. Economy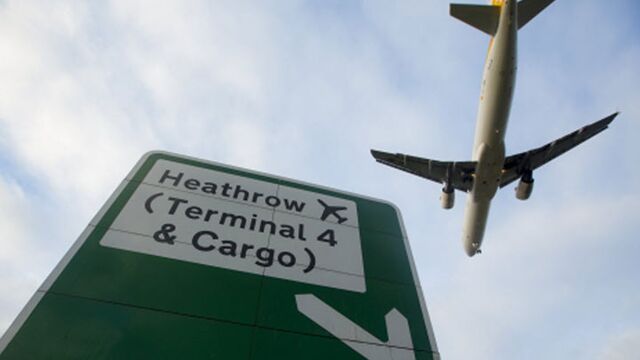 Before it's here, it's on the Bloomberg Terminal.
LEARN MORE