Buffett's BNSF Open to Bid for Norfolk to Challenge CP's Offer
by
Chairman Rose says N. America industry won't stop at one deal

He prefers no consolidation, but would jump in if it begins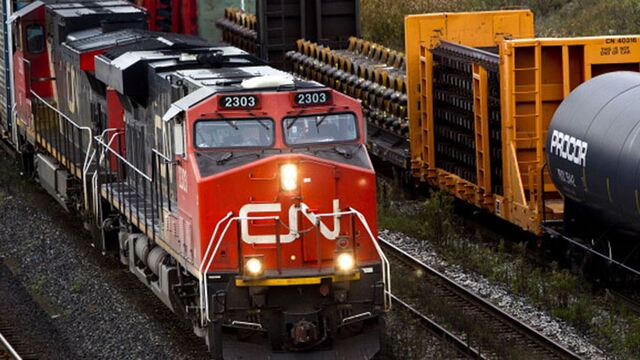 The railroad controlled by Warren Buffett's Berkshire Hathaway Inc. vowed to join any consolidation in the North American industry, saying that Canadian Pacific Railway Ltd.'s $27 billion bid for a U.S. rival inevitably would trigger more deals.
BNSF Railway Executive Chairman Matt Rose is open to making a competing offer for Norfolk Southern Corp., the company targeted by Canadian Pacific, and CSX Corp. also would be "very much in play." While BNSF doesn't favor fresh dealmaking, the carrier won't be sidelined if any occurs, Rose said Thursday in a telephone interview.
"We've never in this industry just done one merger," said Rose, 56, who moved into his current post in 2014 after serving as chief executive officer since 2002. "You do a merger and then somebody else announces it because of this issue of stabilization of the industry and parity in various markets."
BNSF's willingness to pursue a tie-up underscores the potential challenge for the U.S. Surface Transportation Board, which would have to evaluate any deal. There have been no major U.S. rail mergers for more than 15 years, and the STB has new, untested rules requiring that it evaluate possible follow-on combinations as part of its regulatory review.
Share Rally
CSX and Norfolk Southern both were bright spots for the U.S. stock market Friday, when major indexes slumped. CSX rose 4.1 percent, the most in three months, to $25.72 at the close in New York while Norfolk Southern gained 2 percent to $89.44.
Norfolk Southern has snubbed Canadian Pacific, which wants to create a cross-border, coast-to-coast carrier in a North American industry dominated by six railroads: Norfolk Southern and CSX compete east of the Mississippi; Calgary-based Canadian Pacific vies with Canadian National Railway Co.; and BNSF goes head to head with Union Pacific Corp. in the western U.S.
Tony Hatch, a former Wall Street analyst who tracked many of the 1990s mergers that created the modern industry, said Rose's comments were intended to slow down any rush to a round of deals that would shrink the industry's ranks.
"We're at this stage where everybody is saying, 'Look if this happens it's going to be kind of a big thing and not necessarily a good thing,' " said Hatch, who now runs ABH Consulting. "Matt's move is a warning in order to prevent that."
Union Pacific
Spokesmen for Norfolk Southern, Canadian Pacific and CSX declined to comment on Rose's remarks, while Union Pacific's Aaron Hunt said, "We oppose rail industry mergers in the current environment and believe the regulatory hurdles for future consolidation would be significant."
Putting Canadian Pacific together with Norfolk Southern would leave Jacksonville, Florida-based CSX at a disadvantage, inevitably making that railroad a target as well, Rose said. Canadian Pacific sees $1.8 billion in merger benefits from a Norfolk Southern deal, which "quite frankly creates an uneven, unstable railroad network with CSX," he said.
"Then you've got two railroads in the west that would be looking at, 'Should one of us jump in with the NS assets or should the other one jump in on the CSX assets?' " Rose said.
A BNSF offer for Norfolk, Virginia-based Norfolk Southern would be akin to Union Pacific's efforts to step in during the 1990s to "provide a competitive bid when the Burlington Northern and Santa Fe were merging," Rose said. "If there is consolidation to be had, we would participate as well."
Buffett completed his purchase of Fort Worth, Texas-based BNSF in 2010, a transaction valued at about $34 billion that he described as a bet on the U.S. economy because of railroads' vital role in moving freight. BNSF could bring considerable resources to bear in future consolidation. Omaha, Nebraska-based Berkshire had more than $66 billion in cash at the end of the third quarter.
While there haven't been any combinations among major North American carriers in the 21st century, BNSF does "scenario planning every year," Rose said.
Rose said shippers don't support large deals. They are concerned about having fewer options and the railroads having too much market power, he said.
"I just don't get a sense that the marketplace wants to see a final consolidation," Rose said. "The marketplace would tell you that they're already concerned that there's too much consolidation."
Before it's here, it's on the Bloomberg Terminal.
LEARN MORE