How Gilead Priced Its $20 Billion Blockbuster
by
Gilead documents provide a rare glimpse into price decisions

`We have to get most of the way there in the initial pricing'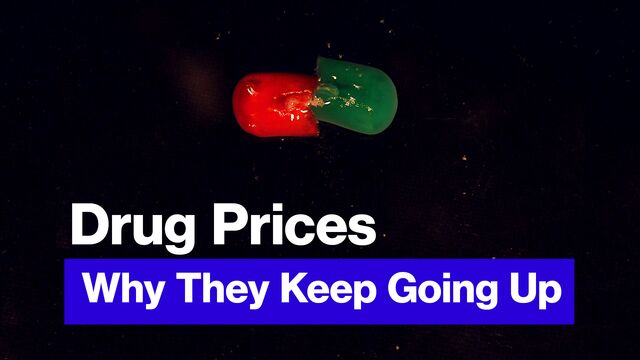 From the start, the miracle drug was expected to carry a high price tag: $36,000 to treat each patient.
Over the two years leading up to the medicine's 2013 launch, Gilead Sciences Inc. executives and advisers inched the number higher, to about $65,000, then to $81,000, then to $84,000 -- or $1,000 a pill for the 12-week treatment -- as they homed in on a price that was just below where they thought insurers would add significant restrictions for the breakthrough hepatitis C remedy.
One Gilead vice president indicated in an e-mail that he knew the company was courting controversy. "Let's hold our position whatever competitors do," he wrote, "or whatever the headlines."
They misjudged the reaction from insurers, but the pill, Sovaldi, and its successor, Harvoni, became two of the fastest-selling drugs of all time.
Gilead's Hepatitis C Bonanza

The pharmaceutical industry has come under criticism for high prices of medicines in the U.S. but has rarely divulged what goes into deciding how much drugs will cost. The results of a Senate investigation by Democrat Ron Wyden of Oregon and Republican Charles Grassley of Iowa provide a glimpse into the process at one company. The senators released only some of the 20,000 pages of documents provided by Gilead.
Gilead officials "were fully aware" that higher prices for Sovaldi would put the treatment out of reach for many, Wyden said last week during a press conference in Washington. 
Backlash
Gilead, in statements, said it disagreed with the Senate report's conclusions and that it tried to set a price that would allow broad access with minimal restrictions. It also said it's now offering steep discounts to government programs and some insurers.
Yet Sovaldi's introduction was what started the latest backlash over soaring prices for drugs to treat hepatitis, cancer, multiple sclerosis and other diseases. After Sovaldi's launch in December 2013, dozens of state Medicaid plans limited access to the medicine. And Gilead's pricing was noted Wednesday in a hearing of the Senate Special Committee on Aging.
Gilead said it didn't consider research and development expenses in pricing Sovaldi or Harvoni. Instead, it examines prices in "the existing market that we are entering," spokeswoman Michele Rest said.
Setting a Benchmark
According to the Senate report, Gilead saw Sovaldi as the company's chance to set a price benchmark for future hepatitis drugs. That included Harvoni, which launched in October 2014, combining Sovaldi and another Gilead compound at a price of $94,500 for 12 weeks. Sovaldi and Harvoni have been among the fastest-selling drugs in history, with $20.8 billion in combined U.S. sales since Sovaldi was approved.
Sovaldi can cure the liver-wasting virus in 90 percent or more of patients when used in combination with other drugs. It was a breakthrough compared with older regimens that had a lower success rate and came with side effects such as flu-like symptoms or anemia.
It's precisely the sort of drug that should be rewarded with high prices, said Craig Garthwaite, a health economist at Northwestern University's Kellogg School of Management.
"They are providing a lot of innovation and should be compensated for it," Garthwaite said.
$11 Billion Deal
Gilead obtained Sovaldi in its $11 billion acquisition of Pharmasset Inc. in 2012. Before that deal was announced, Pharmasset had been considering charging about $36,000 per treatment, according to one Securities and Exchange Commission filing that Pharmasset made after the agreement with Gilead was disclosed.
Gilead said its pricing approach was "consistent" with what Pharmasset planned to do.
The drugmaker said that its review of Pharmasset's materials indicates that Pharmasset planned to price Sovaldi-containing drug cocktails at a cost of no less than the standard of care at the time, $72,000 per treatment, Rest said. Pharmasset had assigned a "placeholder price" of $36,000 for Sovaldi and another $36,000 for a second antiviral drug, for a total of $72,000, she said.
Sales Projections
Three days before the Gilead deal was announced on Nov. 21, 2011, Pharmasset adviser Morgan Stanley made a presentation to the board and projected $6.5 billion in peak sales for Sovaldi based on the $36,000 figure, according to the Senate report. But Gilead's adviser on the deal, Barclays Plc, was assuming a price of $55,000 to $75,000, according to a presentation the bank made on Nov. 13, 2011, that was released in the Senate report. Barclays and Morgan Stanley both declined to comment.
The sale was completed in January 2012. Later that year, Gilead Executive Vice President Kevin Young referenced a potential price of "$58k vs. $65k" in a presentation, according to the Senate report. Young, who retired from Gilead last year but remains an adviser, didn't respond to telephone messages.
At one meeting, Gilead officials considered Sovaldi's high cure rate and how it could justify a retail price of $82,000 to $121,000, according to the Senate report. Then, in a 90-minute session on May 10, 2013, there was a presentation from three officials from IMS Consulting Group, according to the report. Based on a survey of insurers and Medicaid plans, IMS suggested an "acceptable" price range of $80,000 to $90,000, according to the report. IMS Health Holdings Inc. confirmed that it was a consultant to Gilead on Sovaldi but declined to comment on the specifics of the Senate report.
Influencing Future Drugs
Four months before the launch, Senior Vice President Jim Meyers briefed Gilead's board.
"We have to get most of the way there in the initial pricing," Meyers said in the Aug. 1, 2013, presentation. He talked about a range between $70,000 and $90,000, and said that the decision would have a big influence on how much Gilead could charge for future drugs, according to the report. 
As the FDA's decision neared, Gilead prepared for an internal meeting when the final price would be set. Beforehand, on Nov. 18, 2013, Young e-mailed top executives and recommended a price of $27,000 for a 28-pill bottle, or $81,000 for 12 weeks.
Gilead didn't provide documentation explaining the eventual bump-up to $84,000, the report said. The final decision was made by the global pricing committee, a group of top executives including Chief Executive Officer John Martin, President John Milligan and research head Norbert Bischofberger.
Expecting Complaints
Gilead was aware activists might complain. One group with whom company officials met, the Fair Pricing Coalition, had asked Gilead in October 2013 to cap Sovaldi at $60,000. In an e-mail the next month that Gilead provided to Senate investigators, Young wrote, "Let's not fold to advocacy pressure in 2014."
There was pressure, especially from the nation's biggest manager of pharmacy benefits, Express Scripts Holding Co., which serves as a gatekeeper for prescriptions dispensed to millions of Americans.
"They thought they were pricing it appropriately. We thought they were taking a premium," said Steve Miller, Express Scripts' chief medical officer.
Last December, Express Scripts excluded Gilead's Harvoni from its main list of covered drugs. It favored a competing medicine from AbbVie Inc. that it said offered a significant discount. 
In January, Gilead cut its own discount deal with CVS Health Corp., which agreed to favor Gilead's drug to the exclusion of AbbVie's.
Those deals have brought down costs. Michele Rest, the spokeswoman for Gilead, said in an e-mail that the company offers discounts on Harvoni to the VA and Medicaid plans of more than 50 percent. And Gilead said in February that it expects U.S. discounts on its hepatitis C drug franchise, Sovaldi and Harvoni, to rise to an average of 46 percent this year from 22 percent in 2014.
Before it's here, it's on the Bloomberg Terminal.
LEARN MORE