BofA's U.S. Stress-Test Resubmission Gets Clearance From Fed
by
Regulators warn Bank of America that it still has work to do

Stakes were high for Moynihan as some saw his job on the line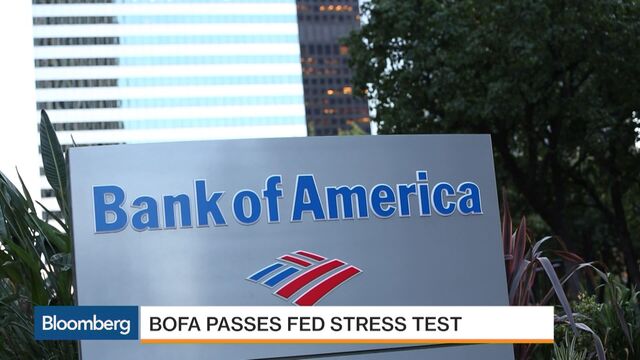 Bank of America Corp., the lender that's struggled with U.S. stress tests under Chief Executive Officer Brian Moynihan, passed the 2015 round after resubmitting its capital plan and persuading the Federal Reserve it improved internal controls.
While Bank of America made headway in fixing loss and revenue models for the Comprehensive Capital Analysis & Review, or CCAR, the Charlotte, North Carolina-based company still has work to do, regulators said Thursday in a statement.
"The firm must continue to make steady, demonstrable progress prior to the 2016 CCAR cycle toward establishing and maintaining sound risk-management and capital-planning processes that are commensurate with the size and complexity of its operations," the Fed said, referring to the submission due in April.
All of Bank of America's biggest competitors passed their test earlier this year, and the stakes for Moynihan, 56, were high. If the Fed found that the lender didn't fix weaknesses disclosed in March, it could have been forced to crimp dividends or stock buybacks for the third time during the CEO's tenure. Investors including E.E. "Buzzy" Geduld, who owns 2.5 million Bank of America shares as head of New York-based hedge fund Cougar Capital, had said Moynihan's job hinged on passing this hurdle.
"They're absolutely relieved they've passed," Charles Peabody, an analyst at Portales Partners, said in a phone interview. "The qualitative aspect of these reviews is the big difficulty. The Fed wants to see how banks will manage capital processes through the next downturn."
Dividend Requests
Moynihan, who took over as CEO in 2010, signaled confidence in early 2011 that payouts would rise after the bank cut the quarterly dividend to 1 cent a share following the financial crisis. The Fed rejected the company's 2010 proposal as competitors including JPMorgan Chase & Co. and Wells Fargo & Co. succeeded in boosting capital returns to investors.
Bank of America didn't ask for a dividend increase in 2012 and got a $5 billion share-repurchase program approved in 2013. The bank raised its dividend to 5 cents a share in 2014 only after killing a $4 billion repurchase plan because of an accounting mistake it found.
This year, Bank of America got conditional approval to repurchase $4 billion in shares after the Fed said it needed to resubmit its capital plan by Sept. 30. Moynihan was heavily involved in the project, which involved overhauling data systems across sprawling institutional and retail businesses, people with knowledge of the effort said in August.
Risk Assumptions
Bank executives described the changes as shifting from assuming their risk models are accurate unless proven otherwise to the opposite, which requires more rigorous attention to the data underlying models. The firm scoured data from companies it had acquired after the 2014 stress-test stumble was caused by mistakes in information from Merrill Lynch & Co. dating back years, one of the people said.
Terry Laughlin, who was named head of wealth management in July, oversaw the resubmission. The announcement was part of a broad shakeup that had Paul Donofrio replace Bruce Thompson as chief financial officer after Moynihan's longest-serving CFO presided over two unsuccessful stress tests. The bank said that Chief Administrative Officer Andrea Smith will lead future submissions.
In saying that Bank of America still needed to make progress before the 2016 CCAR, the Fed departed from language used in approving other banks' proposals. In December 2013, the Fed's statement that JPMorgan and Goldman Sachs Group Inc. passed their stress-test resubmissions lacked mention of further steps the firms needed to take.
Bank of America rose 13 cents, or 0.8 percent, to $17.23 at 10:56 a.m. in New York. The shares have fallen 3.7 percent this year, compared with the 0.4 percent decline of the 24-company KBW Bank Index.
Geduld at Cougar Capital said the shares aren't moving much because Bank of America's success wasn't a surprise. "My hope is that over time the dividend will increase," he said.
Before it's here, it's on the Bloomberg Terminal.
LEARN MORE