Best 2-Month Aussie Jobs Gain Since 1988: Mirage or Miracle?
by
Currency jumped by almost a U.S. cent after report's release

Joblessness in mining hub Western Australia hits 14-year high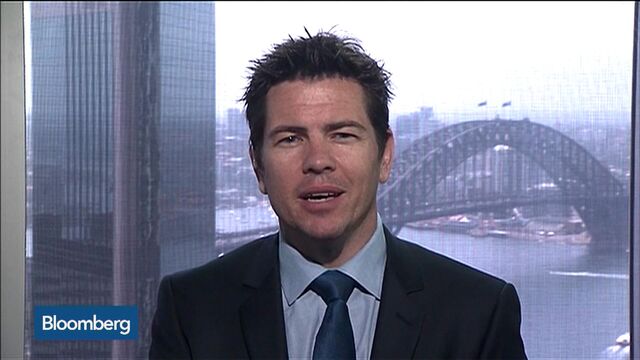 Australian employers recorded the biggest back-to-back monthly job gains in almost 28 years, sending the currency soaring by almost a U.S. cent while renewing doubts about the veracity of the data.
* Employment rose 71,400 from October; economists forecast 10,000 drop
* Jobless rate dropped to 5.8% from 5.9%; economists predicted 6%
* Full-time jobs rose by 41,600; part-time employment increased by 29,700
* Participation rate, a measure of labor force in proportion to the population, rose to 65.3%; economists predicted 65%
"The labor market data are either a major mirage or a minor miracle," said Paul Dales, chief economist for Australia and New Zealand at Capital Economics. "But even underneath the salty surface the labor market does appear to be strengthening."
The scale of the two-month surge, last seen when Bob Hawke was prime minister, prompted a reassessment of interest-rate bets as traders discounted the possibility of a further easing from the current record-low 2 percent. The result triggered renewed skepticism about the accuracy of the figures, which the Australian Bureau of Statistics has acknowledged in the past. 
Economic Impetus
But if true, the report adds to impetus in housing construction and tourism that is soaking up workers surplus to requirements at mine sites where an investment boom is winding down.
"It's hard to believe that employment has grown 130,000 over two months in the context of everything else," said Michael Turner, fixed-income and currency strategist at Royal Bank of Canada in Sydney. "But there's got to be some signal in this, not just noise."
The Australian dollar traded at 72.79 U.S. cents at 5:11 p.m. in Sydney, having climbed as high as 73.35 cents after the data, compared with 72.42 cents before the release. The Aussie gained against all of its 16 major peers and three-year bond yields rose to the highest this year.
Recruitment firm Randstad Pty. said retail and hospitality industries are performing strongly, reflecting the looming holiday season. It also said education has experienced an increase in demand despite a traditionally quieter summer period.
Poster Child
"Construction has remained the 'poster child' of jobs throughout 2015, performing well consistently month on month," said Steve Shepherd, an employment analyst at Randstad. "At this stage it is difficult to tell whether jobs in logistics and manufacturing are being impacted by seasonality or whether it is the ongoing influence of a lower Australian dollar. This will be a sector to monitor in 2016."
Today's report brings total hiring for the first 11 months of 2015 to 301,700, better than the annual gain every year since 2006, when employment rose 324,600 over the full 12 months.
While Australians "might see monthly figures jump around, and certainly they
do, at the moment they're jumping around in the right direction," Employment Minister Michaelia Cash told reporters in Perth Thursday. "The federal government doesn't really have concerns about the reliability of the ABS. The head of the ABS has continued to come out and say he relies on those figures and he's very comfortable with them."

Survey Switch
The ABS surveys about 26,000 households for its jobs data, with one eighth of the group replaced each month. If data from only those households that participated in both the October and November surveys are measured then the monthly increases in employment would have been just 24,000 and 6,000 respectively, according to Scott Haslem, chief economist for Australia at UBS Group AG.
The large increase in jobs growth is also yet to be reflected in government income tax receipts, which slipped in the first four months of the fiscal year compared with the same period a year earlier.
New South Wales recorded the biggest hiring increase, with 50,300 jobs added in November as the state's unemployment rate fell to 5.2 percent, an almost three-year low. It has been the biggest beneficiary of a construction boom fueled by low interest rates.
Australian bank stocks fell after the data as traders bet the central bank would keep rates steady. Shares in Australia's largest lender by market value, Commonwealth Bank of Australia, were down 2.3 percent.
Western Australia
Reflecting the reversal of the country's two-speed economy away from the north and west to the east and south, Western Australia lost 11,500 jobs and its jobless rate climbed to a 14-year high of 6.6 percent.
Australia is grappling with the fallout from plunging prices of its key commodity exports including iron ore as key trading partner China's economy slows. The Reserve Bank of Australia, which cut rates twice this year, could be gaining traction in its efforts to boost consumer confidence to spur spending and encourage business investment.
"At what point do we stop calling the strong job figures a fluke or a discrepancy?" asked Craig James, a senior economist at the securities unit of Commonwealth Bank of Australia, taking the alternative tack. "The general public will certainly be encouraged by the news on jobs. And the solid job outcomes confirm why retail spending is healthy, car sales are at record highs and home building is at record highs."
Before it's here, it's on the Bloomberg Terminal.
LEARN MORE