Abe to Cash In on Modi Friendship as China Dominates Trade
by and
India set to pick Japan for rail deal on premier's India visit

Leaders may also sign deal on defense equipment cooperation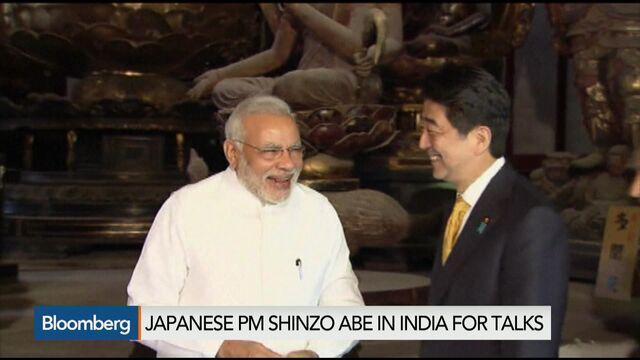 Japanese Prime Minister Shinzo Abe's personal friendship with Indian counterpart Narendra Modi is starting to yield more tangible results, with the nations close to signing deals on defense equipment and India's first high-speed rail link.
On a three-day visit to the world's biggest democracy this weekend, Abe will seek to nail down some concrete achievements to counter China's increasing assertiveness in the region. The nations have a long way to go: Trade between them is about 5 percent of China's commerce with Japan, and less than a quarter of its transactions with India.
"The relationship between India and Japan is perhaps the best it has ever been, largely because they have prime ministers who look at the region and the world in very similar terms," said Harsh Pant, professor of international relations at King's College London. "They are very nationalistic, center-right prime ministers who have a certain idea about the rise of China and about its implications for both these states."
The close personal ties between the two leaders are helping bring the countries closer. Modi is one of a handful of people whom Abe follows on Twitter, where the pair occasionally exchange public messages. When Modi visited Japan last year, Abe took the unusual step of showing him around the ancient capital of Kyoto. This week, after their fifth formal summit, they are set to visit Varanasi for a Hindu ritual at the Ganges river.
Abe arrives on Friday for a meeting with Indian External Affairs Minister Sushma Swaraj before addressing a seminar at a five-star hotel in New Delhi, according to a schedule from the Indian government. On Saturday he meets with business leaders and India's president before he meets Modi for a summit and trip to Varanasi.
'Security Diamond'
The courtship is part of Japan's effort to broaden its network of informal allies to balance China's activities in the region -- a step toward Abe's blueprint for a "security diamond" of regional democracies that includes the U.S. and Australia. For its part, India has been more assertive toward China in recent months, drawing up plans to develop a disputed region along their border and echoing language used by the U.S. and Japan to criticize Chinese expansionism in the South China Sea.
Japan and India's foreign ministers underscored their concern over China in a meeting with U.S. Secretary of State John Kerry in September. The three countries made a statement calling for freedom of navigation and overflight, as well as unimpeded lawful commerce, including in the South China Sea. In October, the nations held a naval drill in the Bay of Bengal.
Nuclear Program
While neither Japan nor India has a claim in the dispute over the South China Sea, both see parallels with their own situation. Coast guard ships from Japan and China regularly tail one another around islets disputed between the two countries in the East China Sea, while border tensions linger between India and China, which fought a four-week war in 1962 over their Himalayan border.
Abe's enthusiasm for India dates back almost a decade to when he was prime minister the first time around. Even so, the two countries have yet to hold the kind of top level "two plus two" meetings of defense and foreign ministers that Japan holds with the U.S., Australia and several other countries. Sensitivities over India's nuclear weapons program have hampered attempts to cooperate on atomic energy, while a proposed transfer of Japan's US-2 amphibian planes has made slow progress.
Rail Line
Other areas look more promising. India appears set to agree this weekend to adopt Japanese technology for a 505-kilometer (314-mile) rail link between Mumbai and Ahmedabad following discussions started by Abe and Modi's predecessors in 2012. Japan is offering a loan to cover 81 percent of the 980 billion rupee ($14.7 billion) cost. A deal would help restore Japanese pride after it lost out to China on a separate $5-billion rail deal in Indonesia, and relieve pressure on Modi to accelerate the modernization of his country.
"The Shinkansen is a symbol of Japanese industry," said Koji Kobayashi, a senior economist at Mizuho Research Institute Ltd. in Tokyo, referring to Japan's bullet train. "If it is adopted in India, it will be good public relations for the government and will play well with the Japanese public. Particularly after the loss to China in Indonesia, it would be a great souvenir to bring back."
Modi's government has set up an office to promote inward investment from Japan, and the two leaders vowed last year to double direct investment in five years. Japan was the fourth biggest investor in India between April 2000 and September 2015, with 7 percent of the total, compared with 0.5 percent for China, according to India's commerce ministry.
'Kindred Spirit'
India will also sign an agreement on defense equipment cooperation with Japan this weekend, the Mainichi newspaper said last month. The content will be based on Japan's existing agreements with the U.K., France and Australia, allowing it to export equipment and transfer technology for joint development projects, potentially including the US-2 planes.
Even as the India-Japan relationship blossoms, Modi has taken care to maintain friendly ties with President Xi Jinping while Abe has also worked to overcome tensions with China. Still, Pant from King's College London says, Modi is a leader who can help justify Abe's long-time optimism toward India.
"He has found his kindred spirit," Pant said of Abe. "If ever there was any hope of tackling some of the difficult issues, this is it."
Before it's here, it's on the Bloomberg Terminal.
LEARN MORE