Photographer: Miles Willis/Bloomberg
Volkwagen Finds No Illegal Changes in Carbon-Dioxide Probe
by
VW no longer faces 2 billion euros in damages from CO2 issue

Volkswagen to have CO2 data remeasured on nine VW variants
Volkswagen AG all but eliminated one front in the pollution scandal that has plagued the carmaker for nearly three months, after the company's suspicions of illegal discrepancies in carbon-dioxide emissions proved unfounded.
Only "slight deviations" were found in a fraction of the 800,000 cars involved in the CO2 investigation, the Wolfsburg, Germany-based company said in a statement Wednesday. While there may be a "minor economic impact" from the issue, Volkswagen said it no longer faces potential damages of as much as 2 billion euros ($2.2 billion). The shares closed up 6.2 percent, the most since Nov. 30, to 131.75 euros in Frankfurt.
The news provides a welcome backdrop for Chief Executive Officer Matthias Mueller as he prepares for his first extended press conference on the matter. The executive is due to brief reporters and investors Thursday on the status of the investigation into cheating on diesel emissions. In September, the company admitted to duping regulators by installing technology in 11 million cars worldwide that turned on full pollution controls only during tests.
While the findings of the CO2 probe is positive for VW, "there is no link to the emission cheating issue at diesel engines," said Michael Punzet, an analyst with DZ Bank in Frankfurt. "We remain skeptical on VW as we still expect a negative mid-term impact on sales, refinancing and pricing."
No Fix
Volkswagen's crisis appeared to deepen in November after the company announced that it may have misrepresented carbon-dioxide emissions. The issue was potentially even more expensive and complicated because it also affected gasoline cars and there's no fix, opening it up to compensating customers and tax authorities.
"The suspicion that the fuel consumption figures of current production vehicles had been unlawfully changed was not confirmed," Volkswagen said in the statement.
The company, which has so far set aside 6.7 billion euros for recalls of diesel cars, has gradually made progress in dealing with the crisis. The automaker is nearing regulatory approval for a low-cost fix for some 8.5 million cars in Europe.
To completely resolve the CO2 prove, Volkswagen will have an unaffiliated technical service remeasure the fuel economy and carbon-dioxide data on nine variants of VW brand vehicles, including versions of the Jetta sedan, Golf compact and Polo hatchback. These variants have total annual production of about 36,000 cars, and the data will be available by Christmas, the company said. The discrepancies found in these vehicles, which represent about 0.5 percent of VW brand sales, amount to a few grams of CO2 on average, Volkswagen said.
Still, talks with U.S. regulators, which are also probing larger, 3.0-liter diesel engines used in VW, Audi and Porsche models, are unresolved. Buying back the affected U.S. vehicles with smaller diesel engines could cost as much as $9.4 billion, according to Bloomberg Intelligence. The company still also faces fines as well as lawsuits.
Watch Next: The Long Rise and Rapid Fall of Volkswagen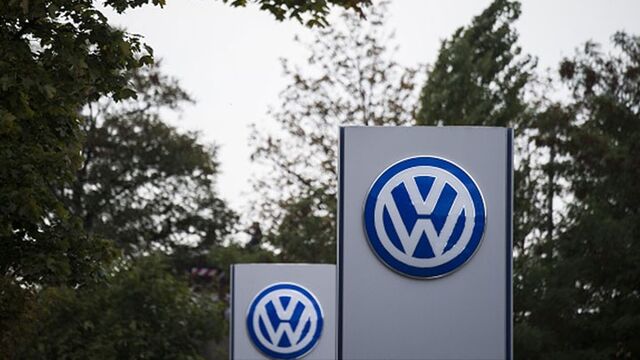 Before it's here, it's on the Bloomberg Terminal.
LEARN MORE