U.S. Stocks Fall, Apple Drop Overshadows Commodity Shares' Rally
By
Crude slides after earlier rallying more than 4 percent

Dow Chemical, DuPont advance on reports of merger talks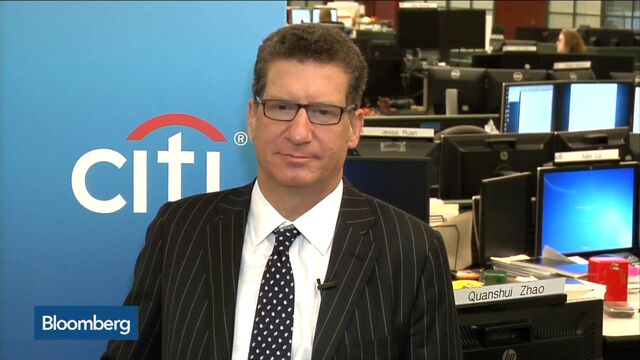 U.S. stocks fell for a third day as Apple Inc. paced declines among technology shares, overshadowing a rebound in commodity companies amid merger talks between two chemical industry giants.
Equities erased an early advance as a rally in crude oil withered in the midst of lingering concerns about slowing global growth. Apple sank 2.2 percent, the most in more than three weeks. Costco Wholesale Corp. fell 5.4 percent after its earnings disappointed. Raw-materials surged as Dow Chemical Co. and DuPont Co. were said to be in late-stage talks to combine, with the two companies rising at least 11 percent.
The Standard & Poor's 500 Index fell 0.8 percent to 2,047.62 at 4 p.m. in New York, after rising as much as 0.8 percent. The gauge hasn't had back-to-back gains since Nov. 3, a span of 25 sessions, and is down 0.6 percent for the year. The Dow Jones Industrial Average dropped 75.70 points, or 0.4 percent, to 17,492.30, even as DuPont added about 53 points to the upside. The Nasdaq Composite Index lost 1.5 percent, weighed on by Costco and Apple.
"The market in general seems to be following commodities, specifically oil, and when it rolled back over into negative territory the market seemed to follow," said Walter Todd, who oversees about $1.1 billion as chief investment officer for Greenwood Capital Associates in South Carolina. "The market is struggling to find a direction with very little out there that's actionable beyond the Fed meeting."

Oil resumed its slide as investors discounted a U.S. crude supply decline, with West Texas Intermediate futures wiping out an earlier 4 percent rally. The contract closed at its lowest since February 2009.
Commodity shares have succumbed recently as attention has refocused on signs of sluggish global growth. Stocks fell Tuesday as weak trade data from China rekindled worry the slowdown there will spread -- a concern that sparked the summer rout in equities. Before today's gains, raw-material companies were the second-worst performers so far this month behind energy.
Fed Looms
Meanwhile, the Federal Reserve is widely expected to raise interest rates one week from today for the first time since 2006. Traders are pricing in an 78 percent chance the central bank will lift off at the conclusion of its two-day meeting on Dec. 16.
Investors are watching economic data for evidence that the U.S. recovery is sturdy enough to withstand higher borrowing costs. A report today showed wholesale inventories unexpectedly fell in October. Data on retail sales, producer prices and consumer sentiment are due at the end of this week.
"Investors are now prepared for a rate hike and it is discounted and the economy can handle it," said Patrick Spencer, equities vice chairman at Robert W. Baird & Co. in London. "That will put confidence back in the market and the economy will continue to do well in 2016."
VIX Jumps
The Chicago Board Options Exchange Volatility Index jumped 11 percent Wednesday to 19.61. The measure of market turbulence known as the VIX has surged 32 percent in three days, the biggest such increase since the bottom of the summer selloff on Aug. 25. About 8.1 billion shares traded hands on U.S. exchanges, 13 percent above the three-month average.
The S&P 500 is 3.9 percent away from its all-time high set in May, after coming within 1.4 percent of the record last week. The benchmark has rebounded more than 9 percent from the August low, bolstered by gains in technology and consumer discretionary shares, today's worst performers.
Seven of the S&P 500's 10 main industries fell Wednesday, with tech and consumer discretionary companies losing more than 1.2 percent. Raw-material shares rose 3.1 percent, the most since in three months, while energy companies gained 1.3 percent despite oil's drop.
Apple, Yahoo
Apple's drop was the biggest drag on the technology group, which declined the most since Nov. 13. South Korean regulators will investigate Apple's relationships with local phone repair companies to determine whether they violate consumers' rights. Electronic Arts Inc. slumped 5.5 percent after GameStop Corp. cut prices on the video-game maker's "Star Wars: Battlefront." Microsoft Corp. declined 1.5 percent.
Yahoo! Inc. lost 1.3 percent, trimming a drop of as much as 4.9 percent, after scrapping its long-planned spinoff of shares in Alibaba Group Holding Ltd. Instead, the Web portal will consider a plan to package all of its other assets into a new publicly traded company. F5 Networks Inc. lost 3 percent after Nomura Securities International Inc. cut its rating on the shares to the equivalent of sell.
Whirlpool Corp. and H&R Block Inc. led declines in consumer discretionary companies, falling more than 4.8 percent. Amazon.com Inc. and Home Depot dropped at least 1.5 percent.
Costco had its steepest decline in three years, leading the drop among consumer staples after quarterly revenue and profit missed analysts' estimates. Retailers in the S&P 500 had their worst day since Nov. 13. Economists surveyed by Bloomberg forecast a gain in November retail sales when the government's report is released on Friday.
Financial shares in the benchmark retreated for the fifth time in six days. CME Group Inc. and Intercontinental Exchange Inc. declined more than 3.4 percent. The KBW Bank Index fell at least 1.2 percent for a third day, led by slides of more than 2.4 percent in State Street Corp. and Northern Trust Corp.
Dow Chemical surged to an all-time high, while DuPont posted its biggest gain ever to lead materials shares higher. Freeport-McMoRan Inc. added 3.7 percent. The copper miner announced measures extended spending and production cutbacks as it battles to preserve cash. Eastman Chemical Co. and Alcoa Inc. increased more than 2.5 percent.
Williams Cos. and Kinder Morgan Inc. rose more than 6.9 percent to pace the gain in energy, while Spectra Energy Corp. climbed 7.4 percent, the most since June 2013. Kinder slashed its full-year dividend by 74 percent to preserve cash it needs to keep growing while it repays $41 billion of debt. Chevron Corp. and Exxon Mobil Corp. added 1.3 percent.
Baker Hughes Inc. advanced 7.4 percent, the strongest climb in three months. 
General Electric Co. is in advanced talks to buy the drill-bits and drilling-services divisions of Halliburton Co., which is divesting assets to win antitrust approval for its takeover of Baker Hughes, according to people familiar with the matter.
Wynn Resorts Ltd. gained 13 percent, the most in the S&P 500, after founder Steve Wynn purchased 1 million shares of the company. That boosted Wynn's personal holdings in the stock to 11.07 million shares, or almost 11 percent of the total, according to data compiled by Bloomberg. The shares are down 53 percent this year.