Now Traders Get to Tell the Jury: Look, We're All Lying
by , , and
Retrial, new cases promise to illuminate debt-market practices

Lawyers can show bond-market fibs common, appellate court says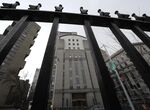 The U.S. government is moving ahead with more than a dozen criminal and civil cases it has been preparing against bond traders, characterizing a loss in an appeals court on Tuesday as a broader affirmation of its pursuit of fraud.
Pending cases that the government now plans to proceed with will probably generate new details about the inner workings of the market for securities backed by mortgages, commercial loans and other assets -- where trillions of dollars of debt is typically traded by phone, with little regulation and scant pricing data.
Thanks to a twist in the appeals court ruling on former Jefferies Group LLC Managing Director Jesse Litvak's conviction, lawyers for bond traders can roll out experts who will argue that this is a market where lying is common and even expected -- a claim that could benefit a few defendants while inviting additional scrutiny of the broader market.
The Securities and Exchange Commission is pursuing multiple cases tied to similar conduct and some may be brought within weeks, two people familiar with the investigation said. The agency was encouraged by the appellate ruling that found Litvak's lies could be considered material, or important to an investor, the two people said, who asked not to be identified because the investigations are private. The agency has been investigating bond traders with Department of Justice officials.
Judy Burns, an SEC spokeswoman, declined to comment on the appeal.
Fair Pricing
The central issue in the Litvak case and the appeal: Sure, bond traders may fib. But is anyone really getting hurt? The path to an answer became clearer when a Manhattan-based appeals court overturned Litvak's fraud conviction, setting up a retrial. The U.S. accused him of misleading customers to the tune of $2 million about how much he was making on bonds he was selling. 
The government, the appellate court said, had presented enough evidence to persuade a reasonable jury that Litvak's actions amounted to fraud, by inducing customers into trades they wouldn't have made if they'd have known how much of a profit he was making.
But the trial wasn't fair, the court added, because the jury didn't get to hear all of Litvak's side of the story. The case Litvak's lawyers weren't allowed to make to their satisfaction: Even if brokers stretch the truth about how much they stand to make on a trade, sophisticated market participants expect that to happen -- and have their own idea of what something is worth. What really counts, his lawyers say, is that the sides agree the price is fair.
"We're very pleased with the decision today in Jesse's case," Kannon Shanmugam, Litvak's attorney, said in an e-mailed statement on Tuesday.
'Powerful Incentives'
Allowing the defense to go back and provide testimony from expert witnesses about misrepresentations in the market -- which even some of its defenders liken to a used-car lot -- means the government will have to confront new evidence. It may also shine a spotlight on questionable behavior by Wall Street. Such discussions could also demand regulatory responses, said Jill Fisch, a professor at the University of Pennsylvania's law school.
"Current sales practices create powerful incentives for brokers to act in ways that are not in their customers' best interest," Fisch said. There's a public benefit in uncovering that sales practices for certain bonds aren't transparent, and that customers and the public don't have enough information, she said.  
Litvak's deception allowed him to sell mortgage bonds at inflated prices, U.S. prosecutors successfully argued at his trial. He was sentenced to two years in prison in July 2014.
The government claimed victory in the appeals court's finding that while the jury should have heard from Litvak's expert witness, prosecutors otherwise made a solid case that the trader's fibs kept investors from making a better decision.
The opinion "affirms the government's ongoing efforts to investigate and prosecute fraud in the fixed-income markets," Connecticut U.S. Attorney Deirdre Daly, whose office prosecuted the Litvak case said in a statement Tuesday.
"Their core theory that this is a kind of securities fraud was ratified by the court," said Matthew Schwartz, an attorney with Boies Schiller & Flexner LLP and a former federal prosecutor. "This by and large emboldens the broader potential wave of prosecutions by the government."
Before it's here, it's on the Bloomberg Terminal.
LEARN MORE