Trump Faces First Backlash in Mideast After Muslim Ban Proposal
by
Dubai's Landmark Group suspends sale of Trump Home products

Gulf News Says Trump extremism no different from that of ISIS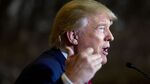 A Middle East partner of Donald Trump's is suspending sale of products bearing his name, the first corporate backlash in the region over his proposal to bar Muslims from entering the U.S.
Dubai's Landmark Group, one of the region's largest retailers, said Wednesday that it is suspending sale of all products from the Trump Home decor range. The front-running Republican U.S. presidential candidate proposed the ban on Monday following a mass shooting in California that officials say was an act of terrorism by a radicalized Muslim couple.
Trump's comments are drawing both ire and ridicule in Arab media, which had largely ignored him before. Dubai's Gulf News daily said Trump's "extremism is no different from that of Daesh," an Arabic acronym for Islamic State. "There must be some kind of moderates in America we can work with to defeat the so-called Trump," Lebanese satirist Karl Sharro tweeted. "But we must understand what causes Trump."
For Trump's biggest partner in the region, however, politics aren't intruding on business. Damac Properties Dubai Co., which is building two Trump-managed golf courses and 104 mansions outside Dubai, said Tuesday that its agreement was with his company and declined to comment on his political agenda.
Before it's here, it's on the Bloomberg Terminal.
LEARN MORE