The Corporate World Has a Soft Climate Accord, If It Wants One
From the sidelines in Paris, businesses can still step up to make a voluntary difference.
by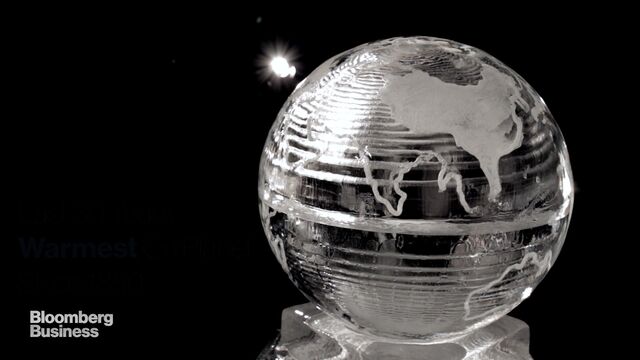 Diplomats want to arrest global warming before it hits 2 degrees Celsius, and the ongoing United Nations talks in Paris come down to which nations are most—and least—responsible for making that happen. But the world isn't just made up of nations. The global economy is the engine driving climate change, and major companies are responsible for much of the world's economic activity. A treaty among nations is one thing, but what about a climate agreement among corporations?
A group of 114 companies already participate in a global framework meant to reduce greenhouse gas emissions, with Kellogg, NRG Energy, Enel, and Pfizer joining this week amid the climate talks. It's part of a voluntary program called the Science Based Targets Initiative in which major players in key polluting sectors acknowledge the scale of their contribution to warming and identify reduction targets. 
Big companies have for years embraced pollution cuts as a way to save energy costs and green their logos. Corporate initiatives are typically driven by top executives and board members and often packaged as public relations plays. There's safety in numbers, too. More than 150 companies have joined the White House's American Business Act on Climate pledge, which encourages them to cut their carbon use "and take other actions to build more sustainable businesses and tackle climate change."
Executives attending the Paris talks need a direct way to help the world meet the 2C goal since they are not themselves party to the UN talks. "If we can lend a voice while the negotiations are going on, we will certainly do so," said Jochen Zeitz, a board member of Kering and Harley Davidson, before leaving for the Paris talks. (Kering has adopted science-based goals to reduce emissions; Harley Davidson is not on the Science Based Targets list but discloses its greenhouse gas emissions, which have been declining, in annual sustainability reports (PDF).
The Science-Based Targets Initiative harnesses these corporate intentions and binds them to the international 2C goal. Companies are volunteering to join, at least in part, because research organizations are making a successful case with an analytically sound tool. Now, instead of simply watching as the UN process unfolds, corporate leaders can calculate the extent of their responsibility for greenhouse gas emissions. The targets initiative provides an online program that companies use to crunch the numbers.
It's based on a computer simulation, developed by the International Energy Agency, that projects how every major industrial sector needs to change by 2050 for the world to hit the 2C goal. That breakdown looks like this:  

That's only the first step. It shows how each industrial sector needs to change by 2050. It's kind of like a budget—not for spending money but for burning fuel. 
That sectoral view isn't granular enough for a company to be able to make its own, unique target. So—and here we are simplifying matters (PDF)—the tool takes that sector projection and crunches it against a company's data (including pollution rate and expected annual growth) in order to create an emissions budget for the the company itself. 
The graphic below shows how direct emissions (called "scope 1") from a hypothetical steel company, in blue, are set on a trajectory to converge with the sector's emissions budget by 2050. The red dot shows the 2020 target; it's lower than the sector average because "Company A" already emits with an intensity less than that of the steel sector overall.

Science-based climate targets represent an advance for corporate pollution control. Still, it's a work in progress, and many of the companies using it are already leaders in the corporate climate movement: Coca-Cola Enterprises, Dell, Procter & Gamble. How do you get the rest of the private sector to set targets that might save the world? Well, that's one for the negotiators in Paris. 
Before it's here, it's on the Bloomberg Terminal.
LEARN MORE