Sweden's `Fantastic' GDP Data Ease Budget Gloom of Refugee Costs
by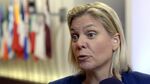 Sweden's economy is growing so fast that the budget hole the government had feared would follow its generous asylum policies may not be as big as initially predicted.
Finance Minister Magdalena Andersson says the economy looks "fantastic." The latest data show "it's moving like a locomotive," she told Bloomberg on Wednesday.
Gross domestic product grew 3.9 percent last quarter from a year earlier. Quarterly growth was 0.8 percent, or double the rate economists had expected. Nordea, Scandinavia's biggest bank, predicts Sweden will lead the region's economic expansion in the coming years, with growth rates well in excess of 3 percent through 2016.
It's already apparent that the development is producing enough additional tax revenue to help cover a budget spending increase proposed last month, Andersson said. The latest GDP figures, which show the fastest annual growth since early 2011, also coincide with an improved outlook for the labor market this year.
"It's of course positive," Andersson said.
The Swedish Migration Agency's latest forecasts signaled that the surge in refugees would cost 29 billion kronor more than budgeted. The government has since then embarked on a plan to significantly reduce the number of asylum seekers from more than 10,000 a week to below 2,000.
"It's not mainly an economic problem, but of course it also affects public finances," Andersson said
The country of 9.8 million people is accepting more refugees per capita than any other European Union nation. Sweden's migration agency estimates that as many as 360,000 refugees and asylum seekers will have made their way to the Nordic country during 2015 and 2016. The government in September predicted it would post budget deficits of 0.9 percent of GDP this and next year before reaching balance in 2018.
Before it's here, it's on the Bloomberg Terminal.
LEARN MORE