business
Osborne Rejects Move to Ban Trump From U.K., Calls for Debate
By
Says `robust debate' best way to deal with Trump comments

Dismisses Trump's comments on Muslims, London, as `nonsense'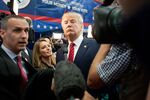 Chancellor of the Exchequer George Osborne said "robust debate" is the best way to respond to U.S. presidential candidate Donald Trump's proposal to stop Muslims entering the U.S., as he rejected calls to ban him from Britain.
Osborne, standing in for David Cameron at the prime minister's weekly question-and-answer session in Parliament on Wednesday, was responding to the Scottish National Party's trade spokeswoman, Tasmina Ahmed-Sheikh. The SNP has called for Trump to be blocked from entering the U.K. as part of a ban on "hate preaching."
"The best way to confront the views of someone like Donald Trump is to engage into a robust democratic argument with him about why he is profoundly wrong about the contribution of American Muslims and indeed British Muslims," Osborne said. "And that is the best way to deal with Donald Trump and his views rather than trying to ban presidential candidates."
The comments by Trump, the front-runner in polling for the Republican nomination, that Muslims pose a security threat to America attracted widespread condemnation. He subsequently tried to defend his views in an interview with MSNBC, in which he said there are parts of London where "police are afraid for their own lives." Cameron's spokeswoman, Helen Bower, said Tuesday the comments "are divisive, unhelpful and quite simply wrong."
"The Metropolitan Police do a brilliant job and have fantastic relations with British Muslims," Osborne said, dismissing Trump's comments as "nonsense."
A petition on Parliament's website calling for Trump to be banned from the U.K. drew more than 140,000 signatories, easily passing the 100,000 mark at which lawmakers have to consider it for debate. It drew more than 30,000 signatures in the hour after the end of question time.
Before it's here, it's on the Bloomberg Terminal.
LEARN MORE