Douglas Tompkins, North Face Founder, Dies Kayaking at 72
by
Tompkins dies from hypothermia after falling into lake

Tompkins had set up the 715,000-acre Pumalin Park in Chile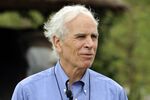 Douglas Tompkins, founder of North Face Inc. and noted conservationist, has died following a kayaking accident in his adopted country of Chile. He was 72.
Tompkins died Dec. 8 from hypothermia after falling into the freezing waters of General Carrera lake amid high winds, the regional government's health department said in a statement. His body temperature had fallen to 19 degrees Celsius (66 degrees Fahrenheit) by the time the Chilean navy brought him to the hospital in Coyhaique.
"Doug was the complete man—original thinker, world-class climber and kayaker, pilot, hugely successful businessman, designer, ecological visionary, and ornery S.O.B.," his friend Tom Brokaw said in an e-mailed statement. The former NBC News anchor recalls that Tompkins pursued his hobbies and ideas with equal ardor. "We kayaked through the Russian Far East together, and climbed a glacier route on Mt Rainier, and through it all he never stopped lecturing me on deep ecology. I was in awe of him." 
Exits Retailing
In addition to outdoor apparel-and-gear retailer North Face, Tompkins started fashion company Esprit Holdings Ltd. in the 1960s. He sold both companies and used the proceeds to acquire hundreds of thousands of acres of land in Chile and neighboring Argentina for preservation. VF Corp., the biggest jeans maker, which is based in Greensboro, North Carolina, acquired North Face for about $25 million in 2000. 
At the time of the accident, Tompkins was traveling with a group that included Yvon Chouinard, the founder of Patagonia Inc. and Rick Ridgeway, a member of the first American team to climb to the summit of K2, the world's second tallest peak.
Wind drove strong waves, capsizing their kayaks, and forcing the paddlers to swim in 4 degree Celsuis water. 
"We are all deeply saddened by the news of Doug Tompkins' passing. Doug was special to many of us," The North Face said in a statement. "He was a passionate advocate for the environment and his legacy of conservation is one that we hope to help continue in the work we do everyday".
Tompkins was born March 20, 1943, Mona Schmadl, a spokeswoman for Esprit said in an e-mail statement.
He and his wife Kristine developed Pumalin Park, a 715,000-acre site created to protect a swath of Patagonia. The Tompkins' Pumalin Foundation was a key member of the Council for the Defense of Patagonia, a group of more than thirty organizations that successfully fought the construction of HidroAysen, a power project that would have flooded 14,000 acres of Patagonia wilderness.
Before it's here, it's on the Bloomberg Terminal.
LEARN MORE