Nobel Laureate Says Fed Shouldn't Raise Interest Rates Next Week
by and
Maskin says inflation too weak to warrant tighter policy

Higher rates would exacerbate inequality in U.S., he says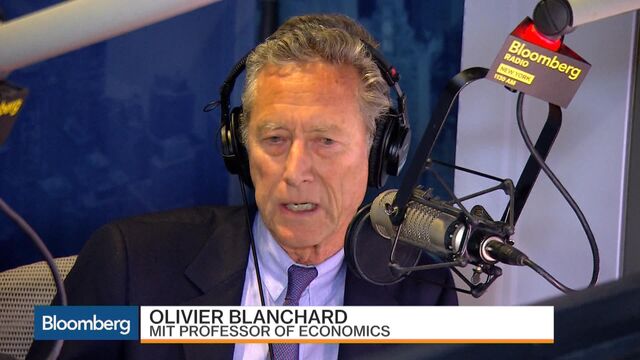 Janet Yellen's U.S. Federal Reserve shouldn't raise interest rates next week, because doing so could jeopardize economic growth and worsen inequality, said Nobel laureate Eric Maskin.
"The unfortunate thing is that if you raise interest rates there is a risk -- again, it may be small, but it's a significant risk -- that you will slow down the recovery," Maskin said in an interview in Moscow on Tuesday. "Maybe she knows something that I don't know, and she sees signs of inflation I don't see, but I really don't understand why it's so important to raise interest rates when there is so little to be afraid of."
Yellen told lawmakers last week a rate increase at the Federal Open Market Committee's Dec. 15-16 meeting was a "live option" given that the economy is "doing well," and a move from the current near-zero level is widely expected.  While the Fed hasn't hit its inflation target for more than three years, a series of strong jobs reports are giving officials confidence that prices can pick up even as they raise borrowing costs for the first time since 2006.
Maskin, who won the Nobel in economics in 2007, also said a move would also widen the divide between those who have savings and those who don't. This isn't just an academic issue for Yellen -- she was asked about income inequality at the same Dec. 3 congressional hearing, and said it was showing a "very disturbing trend" upward, though said the central bank can't tackle the key factors behind this increase.
Increasing Inequality
"I worry that raising interest rates is a move to increase inequality, not to decrease it," Maskin said. "Most people don't have much savings, most people rely on their wage income. And the problem with raising interest rates is that you make investment in businesses less profitable and so you make it more difficult for wage earners. You help savers, the investors, but you hurt people who rely on wage incomes."
Maskin last year was among 75 economists endorsing an increase in the minimum wage for U.S. workers. The U.S. is the most unequal developed economy, apart from those in southern Europe that are still struggling from the after-effects of the region's debt crisis, Morgan Stanley said in a report last month. A European Central Bank working paper published in July concluded that the top 1 percent of American households hold as much as 37 percent of all wealth, more than the 30 percent figure that's usually cited.
Costlier Investment
"Higher interest rates mean investment is costlier," he said, adding that it affects both income distribution and the economic outlook.
The Fed postponed an interest-rate increase in September, saying in their statement that "recent global economic and financial developments may restrain economic activity somewhat and are likely to put further downward pressure on inflation in the near term." That phrase disappeared from the October statement.
As measured by the personal consumption expenditures price index, the Fed's preferred gauge, inflation rose just 0.2 percent in the 12 months through October. There's an 80 percent probability that the Fed will raise rates next week, according to investor expectations compiled by Bloomberg.
While there are indications that the outlook for the U.S. economy is bright, Maskin said he's "puzzled" by Yellen's determination to move soon as inflation is "well below the target of 2 percent that is normally talked about."
With developing nations alert to the risk that higher U.S. borrowing costs may spur capital outflows, the move won't be significant enough for economies that are now better prepared to sustain shocks, he said.
"Emerging markets have had a lot of time to prepare," Maskin said. "Is it going to have a terrible effect on emerging markets? No, I don't think so because it's not going to be a big change."
Before it's here, it's on the Bloomberg Terminal.
LEARN MORE