New Weapon for Investors Appears in the War on Coal: Politeness
by
Instead of divesting, fund managers seek to persuade

U.K. insurer Aviva prods 40 coal companies on pollution
Call it the softer side of the fossil fuel divestment movement.
As environmental campaigners count a record $3.4 trillion of funds pledged to avoiding financial support for the most polluting industries, another group of investors is maintaining their stakes so they can make their voice heard quietly.
Instead of selling out, the British insurance company Aviva Plc is speaking to about 40 coal companies and utilities in which it holds shares to persuade them to lower their emissions. It's not alone. Hermes Investment Management Ltd. and the endowments of Harvard and Yale universities have taken the same approach, evidence that even investors that haven't joined the divestment movement are taking greater interest in how companies respond to environmental issues.
"If we divest, all that we've done is we've said to the chief executives 'you have no accountability to anybody in the way that you're run,'" Hermes Investment Management Ltd. Chief Executive Officer Saker Nusseibeh said in an interview in Paris. The London-based company manages 29.5 billion pounds ($41 billion).
The remarks contrast with the strategy promoted by the campaigner Bill McKibben and his group 350.org, which is urging investors to abandon the oil, natural gas and coal industries. They hope that by drying up money for companies like Exxon Mobil Corp. and Peabody Energy Corp. will curtail the pollution that causes global warming.

Investors from both camps -- the divestors and engagers -- are in Paris this week for the United Nations climate summit, which is seeking to limit emissions in all nations for the first time. While the divestment movement's support sounds louder, amplified by protests on college campuses across the U.S. and Europe, the funds who make their point made quietly are gaining ground too.
For McKibben, the investors that remain engaged aren't having an impact. "Their response is the right one for most industries and most issues, but not with this one," he said in an interview in Paris. "There's not a problem with Exxon's business model that can be fixed. That's the reason it's important to break with them."
Aviva, which manages about 250 billion pounds, prefers to engage with the companies it owns so it can retain influence, said Steve Waygood, the chief responsible investment officer at Aviva Investors.
Holdings Shift
"In our ideal world we have an economy in which the energy base is renewables," Waygood said in an interview. "We need to transition to that. In that transition we think we have an opportunity to influence the coal sector and their approach to managing their emissions profile."
After weeks of protest at Harvard in Cambridge, Massachusetts, the university's President Drew Faust told students in 2013 the endowment would remain invested in fossil fuels because, "I believe we should favor engagement over withdrawal."
Other investors are reordering their holdings to brace for a world where environmental rules make burning fossil fuels more expensive. Insurers like Aviva are increasingly vocal about the risks of global warming, and are adjusting their investments to promote cleaner technologies and reduce so-called carbon risk. 
Germany's Allianz SE, one of the biggest institutional investors in clean energy, has raised its annual budget for renewables by about 75 percent to 350 million euros ($383 million). Axa SA is selling 500 million euros of coal assets and plans to triple "green investments" to 3 billion euros by 2020.

Insurers are concerned because temperatures have been creeping upwards for more than a century, and this year is set to be the hottest on record. Scientists say further warming will make storms more violent and lead to prolonged droughts, which raises the risk that insurers will be paying out more in the years ahead.
"Weather-related hazard, which has definitely increased, is affecting our addressable market," Waygood said. "To what extent can we sell insurance products into certain jurisdictions? There will be some territories where the flood risk is just too great."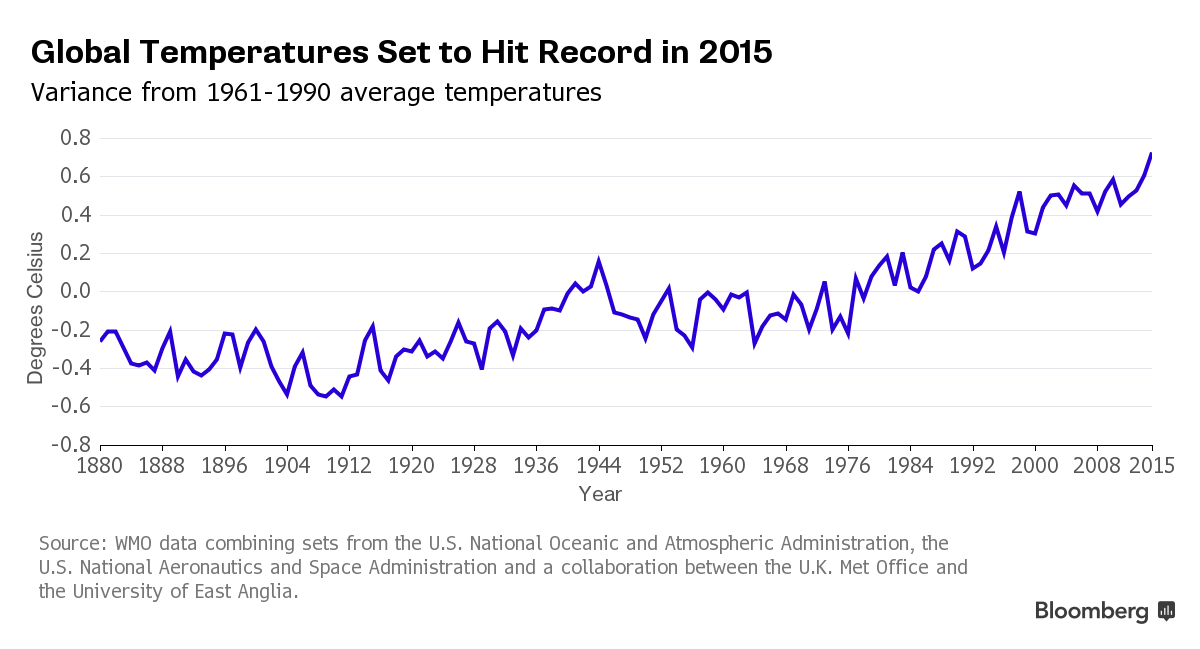 "We need the significant market failure -- arguably the world's biggest contemporary market failure is climate change -- to be addressed," he said. "We are deeply concerned by the future prospects for economic growth, financial returns for our underlying assets and prospects for our insurance business."
Aviva will divest from coal companies that it feels aren't doing enough to try to bring down emissions, Waygood said. In a few years time, it may also turn its attention to oil and gas companies, he said.
"We have not got a specific route for each of the companies which says 'you must do this by then,"' Waygood said. "If we try and engage with all companies in all sectors on all issues simultaneously, it will be a failed approach."
Before it's here, it's on the Bloomberg Terminal.
LEARN MORE