Kremlin Distances Top Prosecutor From Son's Alleged Crime Links
by , , and
Anti-graft campaigner says that Yuri Chaika's son raided firms

Swiss, Greek assets acquired with suspect funds, Navalny says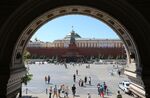 The Kremlin distanced Russia's top prosecutor from allegations that his elder son has ties to organized crime and has invested tens of millions of euros in luxury properties in Greece and Switzerland with suspect funds.
The Anti-Corruption Fund of opposition leader Alexey Navalny accused Prosecutor General Yuri Chaika of giving protection to alleged illegal business activities of his son Artyom Chaika. The allegations prompted calls for an inquiry from some lawmakers. Prime Minister Dmitry Medvedev, asked about Chaika in a TV interview broadcast on Wednesday, said the authorities should investigate any allegations of corruption in an impartial manner. "Just because nobody now is talking about that doesn't mean there isn't a response, but the response can't be instant," Medvedev said.
President Vladimir Putin's spokesman rallied behind Chaika on Monday, saying the Kremlin had known about the allegations from people other than Navalny since June. "This information didn't provoke our interest because this isn't about the general prosecutor," whose son is engaged in "independent" business activities, Dmitry Peskov told reporters on a conference call.
Russia is ranked 136th alongside Nigeria and Cameroon out of 174 nations in Berlin-based Transparency International's corruption perception index. Putin urged the Prosecutor General's Office to help protect the investment climate in his annual address to parliament last week, delivered two days after Navalny's accusations, saying that corruption was an "obstacle to Russia's development" and that theft costs the state budget billions of rubles each year.
'Hatchet Job'
Chaika called the allegations about him and his son "a hatchet job, which wasn't done using the money of those who carried it out" in comments Dec. 3 to the Interfax news service, confirmed by his office. "The information presented is deliberately falsified and has no basis in fact."
Latvia's financial and capital market commission has asked Navalny's fund for information on a bank mentioned in the Chaika investigation, spokeswoman Elina Avotina said by e-mail Thursday. The Baltic republic's regulator said Monday that it was analyzing alleged corrupt transfers involving the unnamed bank and Yuri Chaika's family.
While Navalny's fund didn't accuse Chaika of personally engaging in the wrongful conduct, the anti-corruption activist said in comments posted on a professionally-produced website film detailing the allegations that Artyom Chaika operated under his father's protection.
'Banditry, Raiding'
What Artyom Chaika is doing "has no relationship to business," Navalny said in the film. "It's banditry, raiding and frightening people using the Russian Prosecutor General's Office led by Yuri Chaika." The chief prosecutor's son is "the linchpin of a vast corrupt network set up under the protection of his father Yuri Chaika."
The Prosecutor General's Office referred a reporter to the remarks made to Interfax in response to a request for comment from Chaika and his son.
More than 3 million people have watched the film since it was released by Navalny's fund on Dec. 1. It marks the most high-profile anti-corruption campaign waged by the opposition leader. He has accused other top officials in the past of concealing assets in Russia and overseas, and alleged graft at state companies, though there have been no official investigations or prosecutions in response. While Navalny's allegations receive widespread publicity online, they are usually ignored by state-run media and prosecutors.
Hotel Gala
The fund's investigation said that Artyom Chaika co-owns a hotel in Greece that opened in 2013 with a lavish gala inauguration attended by Russian Culture Minister Vladimir Medinsky. The Pomegranate Spa hotel's other co-owner is Olga Lopatina, former wife of Deputy Prosecutor General Gennady Lopatin, the fund said, citing Greek company documents it posted online. The hotel's public relations manager, George Doucas, said by e-mail that Artyom Chaika is one of the owners though he couldn't assist in communicating with him because "we don't come into direct contact with our shareholders as they are not involved in day-to-day operations."
Sugar Business
Lopatina was a partner in a sugar business with the wives of two gang leaders jailed for the murder of 12 people, including four children, in a notorious mass killing in southern Russia in 2010, the investigation said, citing Russian company records. Bloomberg News has subsequently reviewed the same Russian company records showing a link between the three women. 
Lopatina denied any business relationship with the two women and doesn't know them, according to a statement released to RBC newspaper via the Prosecutor General's Office. One of the wives of the gang leaders told RBC that she didn't know Lopatina.
Navalny shot to prominence during street protests in 2011 and 2012 against election fraud and Putin's return to the presidency for a third term. He came close to forcing a run-off in the 2013 Moscow mayoral election won by Sergei Sobyanin, a Putin ally. He's been a target of repeated police investigations and has two suspended sentences for fraud in prosecutions he says were politically motivated.
Real Estate
His fund alleged that Artyom Chaika invested in bank accounts, business activities and real estate holdings in Greece and Switzerland, using funds earned from companies in Russia, some of which were acquired through illegal corporate raiding. It also alleged that he used law enforcement pressure to seize control of a Siberian shipping company, whose former chief executive was found dead strangled soon after in December 2002. The fund didn't provide documentary evidence of the allegations of corporate raiding or detailing the bank accounts and business activities.
Lawmakers in the State Duma from outside the ruling United Russia party called for an inquiry into the fund's claims. Allegations against any public official and family members "should be fully, deeply and objectively investigated," and those concerned should be most interested in a probe, Tatyana Moskalkova, a member of the Fair Russia party and deputy chairwoman of the State Duma's committee for the Commonwealth of Independent States, said by phone.
'Hear Explanations'
Without an investigation, "there can be no confidence in our security forces," said Dmitry Gudkov, a Fair Russia legislator whose support for the anti-Kremlin opposition earned him expulsion from the party. "If there are people at the top who are mixed up in such scandals, this means the whole system is absolutely dysfunctional."
Communist lawmaker Vladimir Bessonov said he'll ask the Duma to summon Chaika to answer questions about the allegations.
"Our law-enforcement officials, employees of the general prosecutor's office, should be absolutely honest people, and I'd like to hear explanations," Bessonov said by phone. Chaika's son "can enter into business, but not using the methods shown in the film."
Before it's here, it's on the Bloomberg Terminal.
LEARN MORE