Kony's Christian Rebels Still Threaten Central African Republic
by
Lord's Resistance Army active in east of country, UN says

Armed group earning revenue from ivory, gold-smuggling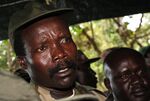 Lawlessness in the Central African Republic is helping Joseph Kony's Lord's Resistance Army continue its almost 30-year regional campaign of killings and abductions, according to a United Nations report.
The Ugandan warlord's forces remain the main threat to peace in the diamond-rich country's east and southeast, states a report by a UN panel of experts due to be published by the end of the year. The militia emerged in northern Uganda in the late 1980s, spread to neighboring South Sudan and the Democratic Republic of Congo, and has caused the deaths of about 100,000 people while forcing 2.5 million others to flee their homes.
"Looting and killings of civilians from LRA groups remain a source of concern," according to the report, which was obtained by Bloomberg from an official close to the panel who requested anonymity because the document isn't public yet. Ivory and gold smuggling generate revenue for the LRA, the experts said. Though the Central African Republic is rich in gold and gems, more than two years of conflict has forced international companies such as Axmin Inc. to suspend operations there.
Lawlessness, Reprisals
The country has been gripped by lawlessness since mainly Muslim rebel militias known as Seleka overthrew the government in March 2013, sparking reprisals by predominantly Christian fighters. The conflict has forced almost a million people to flee their homes, with more than half seeking shelter in neighboring countries, according to the UN Refugee Agency.
The Central African Republic was ranked as the world's 10th-biggest diamond producer by value in 2012, according to the U.S. Geological Survey. Trade in the country's diamonds was banned in May 2013 after the Kimberley Process, which seeks to halt the sale of gems from war zones, said there was no way to determine whether so-called conflict diamonds had been eliminated from shipments.
The U.S. is offering as much as $5 million for information leading to Kony's arrest for war crimes and in October extended for another year a mission that began in 2011 to help fight his group. The LRA has lost support and is down to about 150 fighters, from as many as 1,000 a few years ago, U.S. Deputy Assistant Secretary of Defense for African Affairs Amanda J. Dory said in November.
Sudan Enclave
The group, which is accused by the International Criminal Court of mutilation and turning children into sex slaves, was pushed out of Uganda a decade ago. Kony, who claims to be inspired by the Bible's 10 commandments, is said to have taken refuge in an enclave in neighboring Sudan. Last year, the U.S. urged Sudan to allow an African Union mission access. His group has shown no sign of taking a side in the Central African Republic's conflict.
"Large ungoverned areas in the Central African Republic have allowed the LRA relative free movement" to transport ivory and establish "opportunistic trade relationships" with other rebel groups, said Kasper Agger, a researcher with the Enough Project, an advocacy organization that tracks the militia. Though weakened, "the LRA is far from gone" and is still responsible for daily attacks, abductions and lootings, he said.
The northern part of the country is also characterized by the "total absence of state authority and international forces," according to the UN report. The panel found "a number of human-rights violations against CAR civilians by the Chad security and armed forces," while "other neighboring countries continue trespassing into CAR in order to loot and poach" ivory, gold and diamonds.

A transitional administration that came to power in January 2014 has failed to extend its authority beyond the capital, Bangui. Even in that city, there have been frequent sectarian clashes around a Muslim enclave known as PK5, where Pope Francis visited last week as part of a three-nation African tour.
An unidentified dual U.S.-Chadian national is funding the leader of the "main armed militia" in PK5, named as Haroun Gaye, according to the UN report. In it, the panel said it also found that Gaye, who's wanted for numerous violent crimes, is collecting rent from buildings and houses owned by former President Michel Djotodia, who stepped down in January 2014.
Before it's here, it's on the Bloomberg Terminal.
LEARN MORE