Israeli Lawmakers Call on Netanyahu to Cancel Trump Meeting
by
GOP candidate set to meet with prime minister at end of month

Legislator warns of `danger posed by neo-Nazis such as Trump'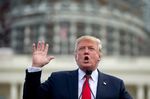 Thirty-seven Israeli lawmakers demanded that Prime Minister Benjamin Netanyahu cancel a planned meeting with Donald Trump, citing the Republican presidential candidate's "racist" proposal to bar Muslims from entering the U.S.
Trump said last week that he plans to visit Israel "very soon" to meet with Netanyahu, whom he described as a "great guy." Their Jerusalem meeting has been set for Dec. 28, according to an Israeli official not authorized to speak on record.
"While other world leaders condemn the racist and outrageous remarks of the Republican presidential candidate, Netanyahu embraces him," said a letter signed by more than three dozen opposition legislators, posted on the Meretz party's Facebook page. They represent nearly one-third of parliament's 120 members.
Netanyahu issued a statement late Wednesday saying he would go ahead with the meeting even though he "rejects Donald Trump's latest comments about Muslims."
Trump's proposal has struck a raw nerve in the Muslim-dominated Middle East. The meeting between Trump and Netanyahu was scheduled two weeks ago, before the candidate's latest comments on Muslims, according to the prime minister's statement.
While Netanyahu said he would meet with any U.S. presidential candidate who visits Israel, that doesn't mean he supports their political positions, the statement said.
Ahmad Tibi, a representative from Israel's Joint List of Arab parties, said in a Twitter post that he had asked the speaker of Israel's parliament, or Knesset, to ban Trump from the premises. Arabs comprise about 20 percent of the Israeli population, and the Joint List is the third-biggest faction in parliament.
'Danger Posed'
"Until we figure out the danger posed by neo-Nazis such as Trump, we cannot let him enter the Knesset," Tibi said, playing on Trump's statement that the U.S. should bar Muslims "until our country's representatives can figure out what is going on."
The Knesset speaker's office said Trump hasn't asked to visit parliament during his visit.
Michael Oren, a lawmaker in the ruling coalition and Netanyahu's former ambassador to the U.S., said Israel "must accommodate the Republican president candidate as if he did not make these statements, while expressing deep reservations about the offensive nature of his remarks."
Netanyahu was criticized during his election campaign in March for exhorting supporters to vote by warning that "Arab voters are going in droves to the polls." He later issued an apology, saying he "never intended to offend" Arab citizens.
Before it's here, it's on the Bloomberg Terminal.
LEARN MORE