Iron Ore Bound for $20s Range as Export Glut Swells, Axiom Says
by
Prices returning to levels before China's demand boomed

Global export market may be in oversupply until at least 2020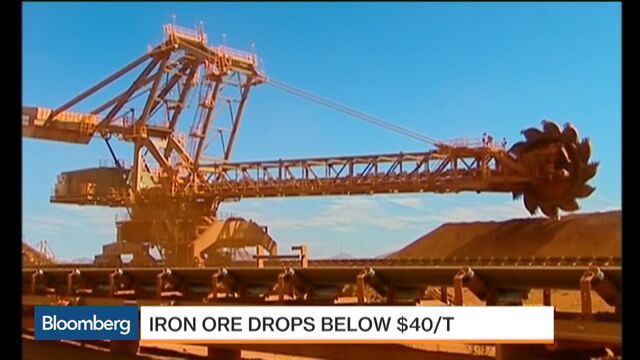 Iron ore's price collapse will extend into the $20 a metric ton range by 2017 or even sooner as a surplus in the export market continues to grow, according to Axiom Capital Management Inc.
The glut of seaborne iron ore will rise by about 48 million tons in 2016 on cooling demand in China and as producers in Australia and Brazil continue to increase low-cost supply, Gordon Johnson, a New York-based analyst at Axiom Capital, said by phone. Prices are returning to average levels before China's dramatic demand boom as it expanded to become the world's second-largest economy, he said.
"Prices will go deep into the low $30s next year and go into the $20s in 2017," Johnson said. "It could happen sooner than our forecast of 2017, that wouldn't shock us."
Iron ore prices tumbled Monday below $40 as producers including Brazil's Vale SA, the biggest exporter, continue to expand output in an effort to cut costs and protect market share. About 184 million tons of new supply is scheduled to be added over the next two years and the export market will be oversupplied until at least 2020, according to Bloomberg Intelligence.
Ore with 62 percent content delivered to Qingdao fell 1.1 percent to $38.65 a dry ton on Tuesday, a record low in daily prices compiled by Metal Bulletin Ltd. dating back to May 2009. Rates peaked at $191.70 in 2011 on demand from China. The raw material went as low as $10.51 a ton in 1988 when annual contracts were negotiated between the largest miners and steel producers, according to data from the International Monetary Fund.
"Iron ore is going to mean revert, and mean reversion is high $20s or low $30s," Johnson said. "We'd recommend shorting every single iron ore stock."
Before it's here, it's on the Bloomberg Terminal.
LEARN MORE