Nuclear Powers India and Pakistan to Restart Peace Process
By and
Talks to involve Kashmir; Pakistan to expedite terror trials

India foreign minister calls for "maturity" to do business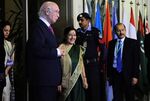 India and Pakistan agreed to restart peace talks that have stalled since Prime Minister Narendra Modi took office.
The nuclear powers holding 20 percent of the world's population will start a "comprehensive bilateral dialogue," Indian External Affairs Minister Sushma Swaraj told reporters on Wednesday in Islamabad in a joint briefing with Sartaj Aziz, Pakistan's de facto foreign minister. Bureaucrats will work out the schedule, she said.
The renewed diplomatic push comes after last month's massacre in Paris intensified global efforts to root out terrorism as Islamic State militants inspire attacks around the world. Tensions between Hindu-majority India and mostly Muslim Pakistan risk fueling extremists in South Asia and beyond.
Increased fighting along their disputed border and conflicts over the agenda have scuttled recent efforts to start a dialogue between the two nations that split apart almost seven decades ago. The rivalry has been marked by three wars and persistent terrorist strikes, hampering the development of the world's least-integrated region.
Kashmir, Terrorism
Swaraj is the highest-ranking member of Modi's administration to visit Pakistan since he came to power in May 2014. She met on Wednesday with Pakistani Prime Minister Nawaz Sharif while attending a regional conference to discuss Afghanistan's future.
Pakistan promised India that it would expedite the trial of seven suspects in the 2008 terrorist attacks in Mumbai that killed more than 160 people. India blamed the Pakistan-based Lashkar-e-Taiba militant group for the strike, and cut off ties with Islamabad's government until it admitted in 2009 that the attack could've been planned on Pakistani soil even as it denied official involvement.
The talks will also involve Kashmir, a disputed region that has been an obstacle to improved ties since Pakistan was created as a home for the subcontinent's Muslims in 1947. Pakistan has repeatedly called for a referendum so residents can choose which country to join, a move India opposes because it could lead to a loss of territory.
Trade Boost

Obstacles to any deal to increase trade are immense. A lasting solution would need the approval of Pakistan's military, which sees India as its biggest threat and still rues surrendering in a 1971 conflict that led to the loss of what is now Bangladesh.
While India and Pakistan share a 2,000-mile (3,200-kilometer) border and have mutually understandable languages, trade between economies accounting was a paltry $2.9 billion last year. Easing travel restrictions and lowering tariffs would boost that five-fold to $12 billion, according to the World Bank.
Swaraj said that India and Pakistan should set aside decades of mistrust to invigorate the region's economies and boost stability.
"Let me take this opportunity to extend our hand to Pakistan," Swaraj said in a speech. "It is time that we display the maturity and self-confidence to do business with each other and strengthen regional trade and cooperation."
Ayesha Raza Farooq, a lawmaker from Sharif's party and member of the Senate's committee on foreign affairs, welcomed Swaraj's remarks.
"It is a big market and because of our close geographical proximity, it does make sense to have better trade ties with India, just like with other regional countries," Farooq said.
Afghan Trucks
One way to increase commerce would be to allow more goods to transfer across land between India, Pakistan, Afghanistan and central Asia.
India is willing to join an Afghanistan-Pakistan transit agreement and create facilities at the border town of Attari to receive Afghan trucks coming through Pakistan, Swaraj said. India is also backing a port project at Chabahar in Iran that would allow landlocked Afghanistan to export minerals bypassing Pakistan.
Pakistan won't allow trucks from Afghanistan to reach Attari in India, making them stop about a kilometer short at the last Pakistani checkpoint of Wagah. In an interview with The Hindu newspaper in May, Afghan President Ashraf Ghani threatened similar restrictions for Pakistani trucks seeking access to central Asia through Afghanistan.